University of Michigan School of Information
Fall 2021 UMSI Student Project Showcase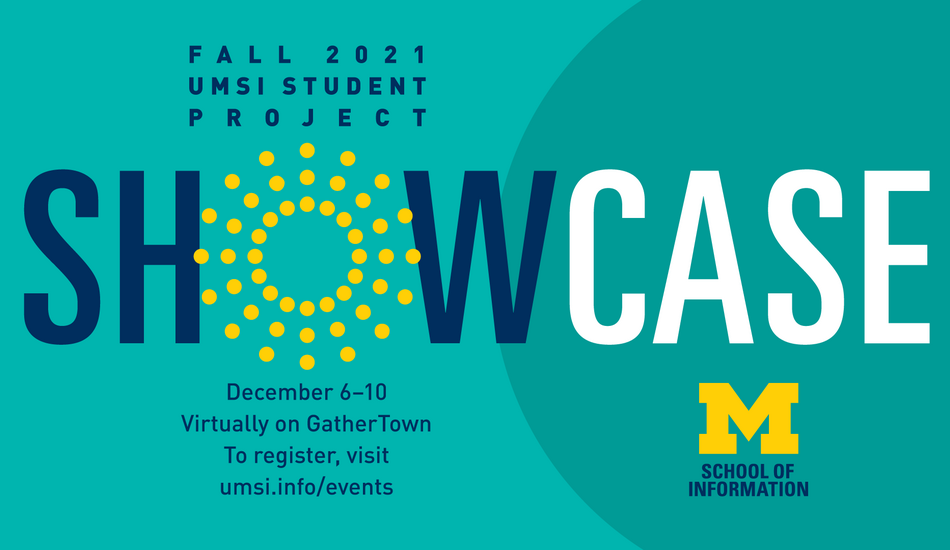 12/06/2021 10:00 a.m. -
12/10/2021 2:00 p.m.
Online
University of Michigan School of Information (UMSI) students will share their work from fall semester projects, summer internships, and other experiences. Students will present posters, presentations or videos virtually via Gather.Town and answer questions.
Why attend? 
Celebrate the work of UMSI students and their accomplishments during an extraordinarily challenging year

Learn more about School of Information students' work and the possibilities this might present for you to submit a project proposal for School of Information students to work on through a client-based course

Identify candidates for internships or jobs if you have relevant open positions
Most posters will be available to view asynchronously on Gather.Town Dec. 6-10, though the opportunity to chat in real time with students will only be available during the schedule of live events.
Schedule of live events: 
Wednesday, Dec. 8
11:30 a.m. - 1 p.m.: 

Design Clinic

 

11:30 a.m. - 1 p.m.: Common presentation time for various UMSI students
Friday, Dec. 10 
10 a.m. - 2 p.m.: SI 671: Data Mining: Methods and Applications 

11 a.m. - 1 p.m.: SI 647: Understanding Library and Information Science: Principles and Practice 
Register to attend at https://airtable.com/shrfMVpxsyJiA6CZN.