University of Michigan School of Information
Honoring the Legacy of Martin Luther King, Jr.: MLK and the Lighthouse Effect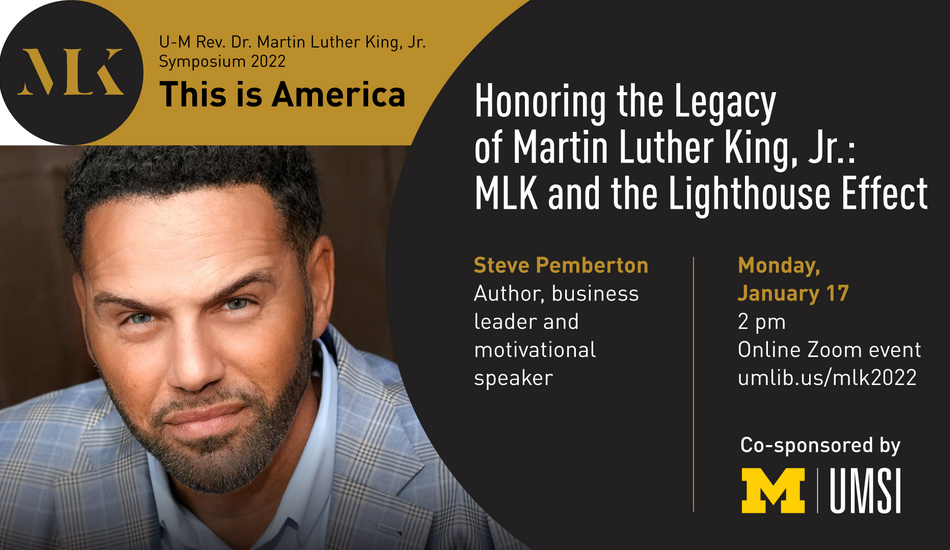 01/17/2022
2:00 p.m. - 3:05 p.m.
Online
Zoom link: https://umich.zoom.us/j/94243015643
Martin Luther King, Jr. Day is not just an annual recognition of the life and legacy of a civil rights leader. It's an opportunity to look inward and ask ourselves what we can do to bring about a more equal world, and what tangible actions we can take to ensure that all voices are heard —  and valued — says author and business leader Steve Pemberton. It's what Dr. King dreamed of and what Pemberton tries to achieve every day.
In this inspirational presentation, informed by Pemberton's turbulent journey of growing up in the foster care system, Pemberton asks us to reconsider Dr. King's legacy in the context of the enduring structure of the lighthouse and how each day offers us an opportunity to find a lighthouse for ourselves and to become one for another. At a time when the very notion of diversity needs to be re-defended and re-defined, you'll be renewed and inspired to make your own contributions to helping us find our collective humanity. Followed by Q&A.
Steve Pemberton is an author, philanthropist and motivational speaker, and is currently chief people officer for Workhuman. His memoir, A Chance in the World, recounts his life journey and amplifies his motivational messages: believe in your dreams, rise above obstacles, create opportunities for others, and most of all, persevere.
This is only one of the free events offered as part of the U-M Reverend Dr. Martin Luther King Jr. Symposium.