University of Michigan School of Information
Restorative Circle: Responding to Sexual Violence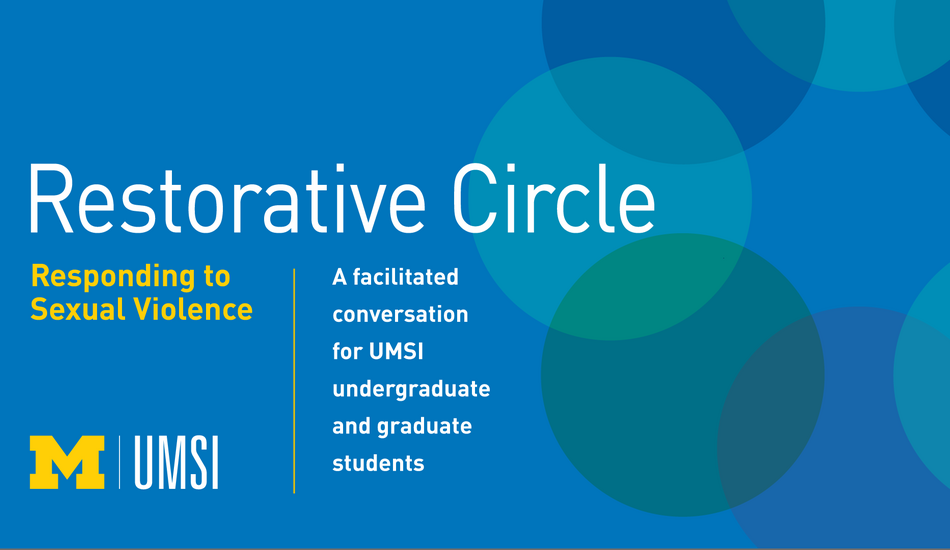 06/16/2021, 03:00 pm - 05:00 pm
Online
UMSI undergraduate and graduate students are invited to a facilitated conversation using the restorative practice of circles. Presented by U-M's Counseling & Psychological Services (CAPS) embedded psychologist at UMSI (Ashley Evearitt) and U-M's Sexual Assault Prevention & Awareness Center (SAPAC). The facilitators will use circles to engage participants in discussion and address individual and collective harm within the community, as well as to collaborate on ideas for community needs moving forward.
These restorative circles allow for focus on "5 C's":
1) Convene- come together in a small and confidential virtual space, facilitated by SAPAC & CAPS confidential staff
2) Connect- connect with peers-only within the UMSI community
3) Concern- talk about and process the harm and impact caused by sexual violence in your community
4) Collaborate- share common areas of concerns to be addressed and strategize possible solutions
5) Closing- review themes, recommendations, and resources available for support. Facilitators will share the agreed upon anonymous themes and recommendations with UMSI administrators
Please RSVP by Friday, June 11. https://sessions.studentlife.umich.edu/p/track/5658
If we receive interest from more than 15 students (the capacity for this circle), we will schedule an additional opportunity.