University of Michigan School of Information
Self-compassion Workshop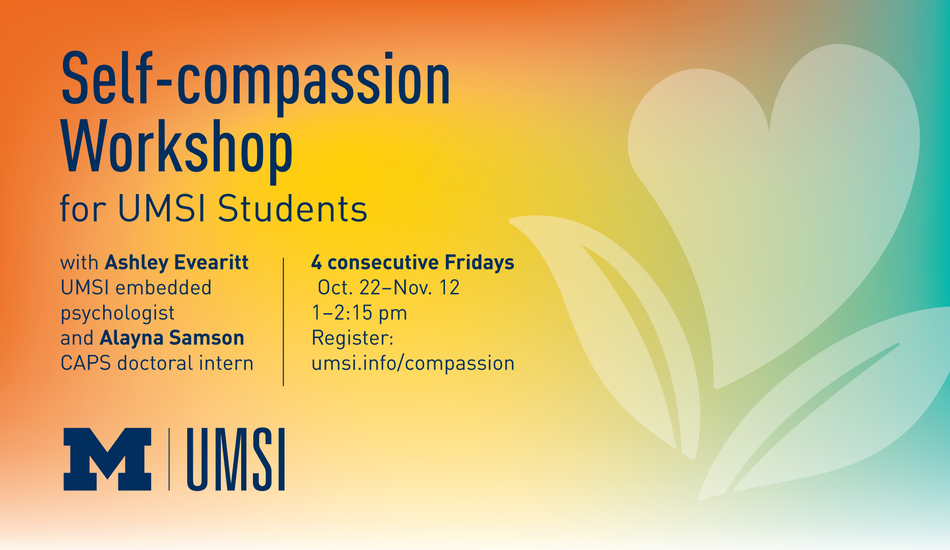 10/29/2021, 01:00 pm - 02:15 pm
Online
Self-Compassion is a four-week online workshop for UMSI students designed to help you:
be less self-critical and more compassionate toward yourself
be mindful of when you are struggling
respond in more adaptive ways
tolerate distress
decrease your concerns about perceived mistakes
feel less alone in your struggles and inevitable missteps
Each session consists of worksheets, practical exercises and meditations focused on building mindfulness and compassion. Additionally, each session contains a discussion portion where students can discuss their experiences and ask questions.
This workshop will be online, and participants are expected to use video during the meetings.
Requirements:
• Attend all four weeks of the workshop (Oct. 22, Oct. 29, Nov. 5, Nov. 12)
• Arrive on time and stay for the full 75 minutes
• Commit to practicing the skills outside of the workshop
Questions? Email evearitt@umich.edu
Register: umsi.info/compassion