University of Michigan School of Information
Social, Behavioral and Experimental Economics Seminar: Justin Holz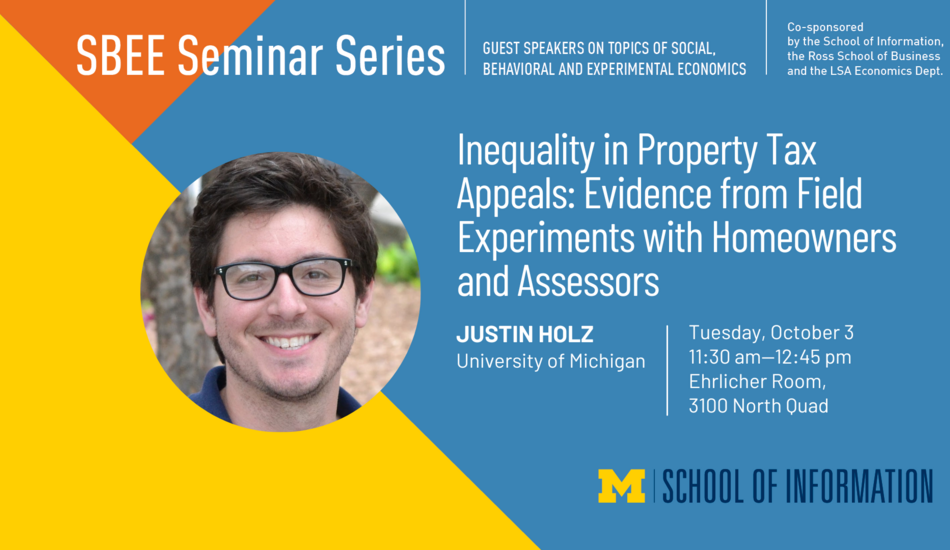 10/03/2023 11:30 a.m. - 12:45 p.m.
Ehrlicher Room (3100 North Quad)
Inequality in Property Tax Appeals: Evidence from Field Experiments with Homeowners and Assessors
This paper is joint with Andrew Simon (University of Chicago) and David Novgorodsky (Walmart). 
Abstract
Despite minority homeowners facing a disproportionate property tax burden, they are less likely to take action to reduce their taxes by filing an appeal. We use two field experiments, one with homeowners and the other with county assessors, to understand the drivers of inequality in property taxes and homeowner appeal behavior. In a survey experiment with Indiana homeowners, we show that information frictions and perceived discrimination contribute to the racial appeal gap.  We additionally find racial differences in the treatment of homeowners by assessors based on both appeal outcomes and through a complementary correspondence study where assessors are less likely to provide aid to minority homeowners who want to appeal.  This provides additional evidence of discrimination. Additionally, we consider the gender appeal gap, and document unequal treatment between female and male homeowners by assessors. Overall, our results indicate that appeals are not effective at reducing biases in assessments.
Speaker bio
Justin Holz is an assistant professor at the Ford School of Public Policy at the University of Michigan. His current research explores how racial discrimination affects the consequences of minimum wage policies, inequity in property taxes, debt amnesties in developing countries, and the causes and consequences of police misconduct. 
He earned his PhD from the Harris School of Public Policy at the University of Chicago. Before attending the Harris School, he was the associate director of the Chicago Experiments Initiative at the University of Chicago. He is also an affiliated researcher at the Joint Initiative for Latin American Experimental Economics.