University of Michigan School of Information
UMSI Alumni Homecoming Celebration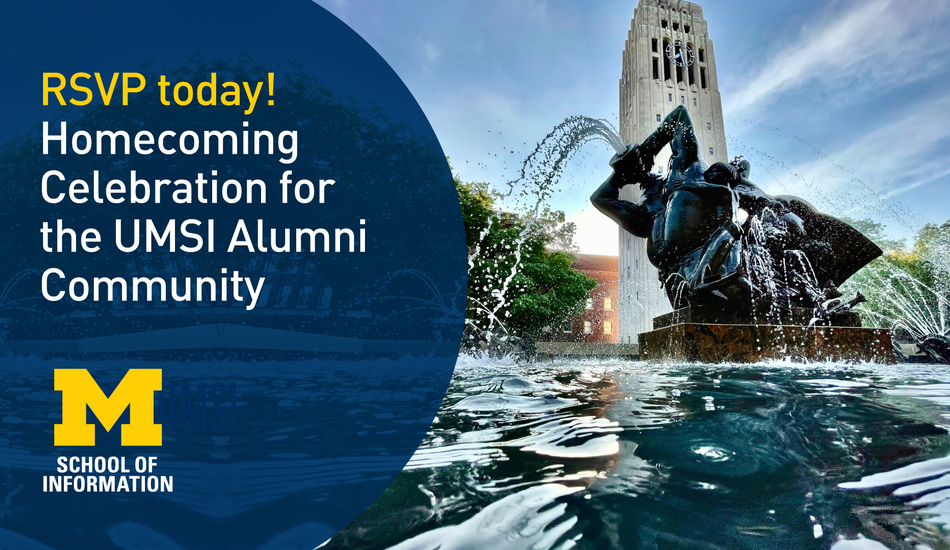 09/22/2023 - 09/23/2023
University of Michigan Ann Arbor Campus
The School of Information will host a homecoming celebration on Friday, Sept. 22 and Saturday, Sept. 23 in Ann Arbor in conjunction with the MADS On-Campus Experience. We hope you can join us for this fun and engaging programming!
The UMSI homecoming celebration events are open to all School of Information alumni, their friends and family. Interim Dean Elizabeth Yakel as well as key faculty and staff will attend to share this experience with alumni.
Agenda of events
Friday, Sept. 22
1-2 p.m.: Faculty lightning talks 
UMSI faculty present research highlights on trending topics in the information field 
2:30-4 p.m.: Shapiro Library (3rd floor) Clark Commons and Map Library tour 
Guided tour led by Lisa Carter, dean of libraries 
4:30-7 p.m.: UMSI community reception 
Join the UMSI community and alumni for a casual reception with light refreshments 
Saturday, Sept. 23 
9 a.m.-noon: UMSI tailgate at the Pioneer High School parking lot
Join the UMSI community for BBQ and fun before the game 
Noon: Michigan Football vs. Rutgers at Michigan Stadium
Please let us know whether you plan to attend any of the events included in the UMSI Homecoming Celebration. All events except for the football game are free of charge. Tickets for the game are available through StubHub. The faculty talks and UMSI community reception will be held in North Quad.
We hope you are having an amazing summer, and look forward to seeing you during Homecoming Weekend!
Please contact Greg Powell ([email protected]) with any questions.