University of Michigan School of Information
UMSI Winter Festival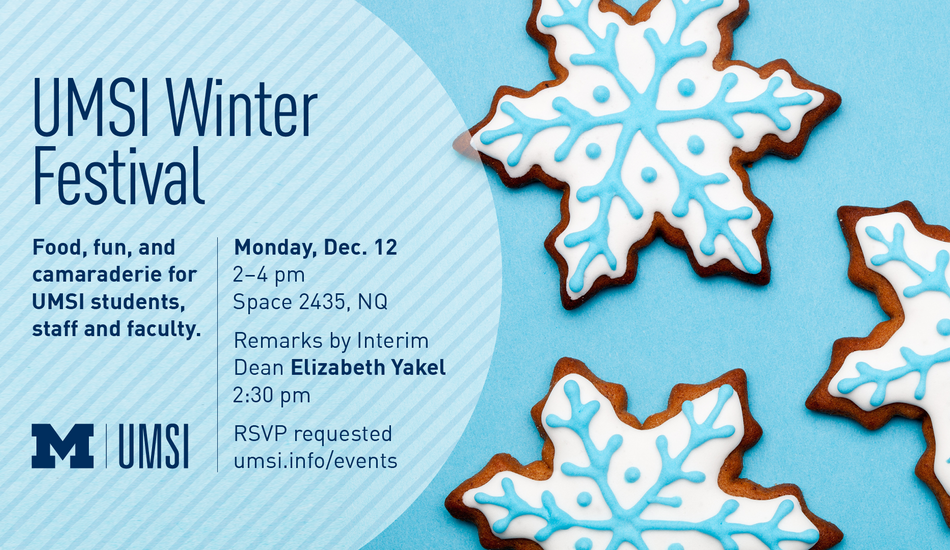 12/12/2022
2:00 p.m. - 4:00 p.m.
Space 2435, North Quad
UMSI faculty, staff and students are invited to celebrate the end of the fall semester at the UMSI Winter Festival.
Enjoy food, fun and live holiday and chamber music from No Repeats, a brass quintet featuring trumpet, trombone, French horn and tuba. (Catch UMSI assistant director of student life Allison Sweet as No Repeats' first trumpet player!)
Remarks by Interim Dean Elizabeth Yakel at 2:30 p.m.
Zoom ID: 912 4095 3011 (LINK)
Passcode: UMSI
RSVP requested but not required.
Help those in need
The School of Information annually hosts a charitable drive in December to support local community members who have a demonstrated need. Donations can be dropped off at the UMSI Engagement Center (777 N. University Ave.) and the UMSI Dean's Office (4th floor, North Quad) during regular business hours. Donations can also be brought to the UMSI Winter Festival from 2-4 p.m. on Monday, Dec. 12 in Space 2435 North Quad.
This year, donations will go to Ozone House, a community-based nonprofit agency that helps young people in Washtenaw County lead safe, healthy and productive lives through intensive intervention and prevention services.
Suggested donations:
$25 gift cards for Meijer, Target and Walmart
Hygiene and household items (lotion, paper products, etc.)
New winter coats and warm hoodies ranging from youth small to men's and women's XX Large