University of Michigan School of Information
MADS portfolio project helps student launch data science career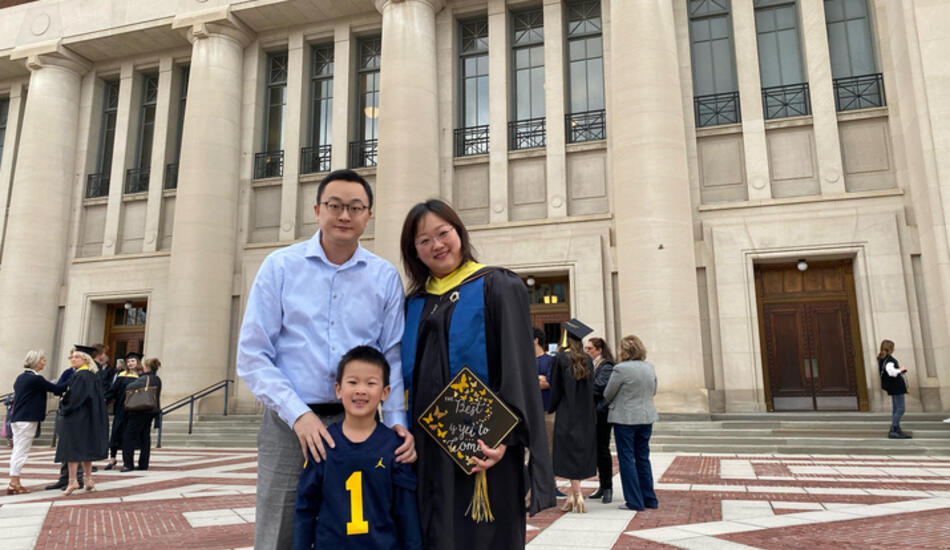 Monday, 10/10/2022
Master of Applied Data Science (MADS) graduate Yao Wei launched her data science career while still a student in the program by dazzling interviewers with new storytelling skills and a machine learning project from her University of Michigan School of Information courses.
Now she is a data scientist at Ford, building and maintaining models for the company's finance department. 
Wei grew up in Shenzhen, China and says she's always had a natural talent with numbers. Her undergraduate studies in economics led to a master's degree in statistics from Jinan University. 
After spending four years working in the statistics and analysis department of the People's Bank of China, Wei decided to move to Michigan in 2014 to join her husband, who was working in Metro Detroit. Her son was born in 2016. 
By 2019, Wei says it was the proper time to start thinking about daycare for her son and doing something for herself. 
"The first thing I decided to do was pursue a degree from a university in the United States, because it would make it much easier to find a desired job," Wei says. She decided on data science because she would be able to use her talent and experience with math, and she was impressed with growing job opportunities in the field.
Enrolling in UMSI's fully online MADS program was a "perfect choice" for Wei. 
One big advantage for her was captioned lecture videos and the ability to pause and replay. 
"English is my second language, so replaying videos was a big help for me, especially in the first few courses," Wei says. 
Gaining confidence with course material at her own pace set Wei up for success in her Milestone I and II courses. In MADS milestone courses, students engage in a portfolio project on their chosen topic covering data analysis, manipulation and visualization. 
For Milestone I, Wei built an interactive map of Airbnb listings. The project enhanced her understanding of how to take advantage of Python libraries. For Milestone II, which she took four months later, Wei expanded on the project by building a set of machine learning models to predict the price of Airbnb listings. 
That project, plus skills she picked up in SIADS 523: Communicating Data Science Results, benefitted Wei when she had to demonstrate a data science project during an interview with Ford. 
"In SIADS 523 I learned how to tell stories with data," Wei says. "I used those skills to present my milestone project, wrapping everything in a story, which engaged the interest of my interviewers." 
Wei's remote data scientist position allows her to maintain the work/life balance she established as a MADS student. It also helps her continue the "habit of learning" she built during that time.
"I got used to learning every day," Wei says. "Now I'm learning the Google Cloud platform through Coursera." 
That's one habit she's eager to pass along to her son, who watched his mom walk the stage at her graduation in spring 2022.
"Every day he saw me learning at my desk is the best education for him," Wei says. 
— Martha Spall, UMSI writer 
RELATED: 
Learn more about the MADS program and how to apply.