University of Michigan School of Information
Alumni Snapshot: Alexis Antracoli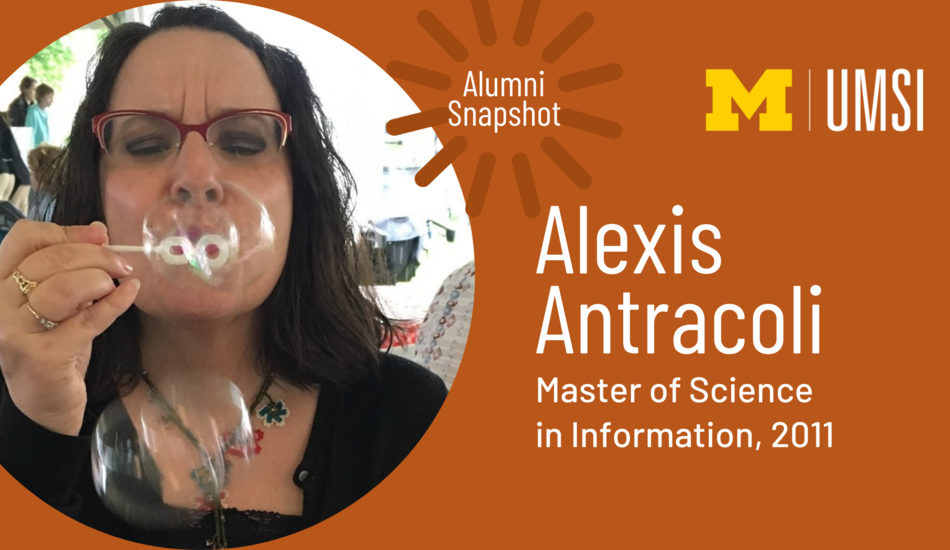 Alexis Antracoli 
MSI '11 (Archives and Records Management)
Assistant University Librarian for Special Collections Technical Services
Currently, I am the assistant university librarian for Special Collections Technical Services at Princeton University. After graduating from the UMSI program, I had a project archivist job at the Bentley Library for a year and then moved to Philadelphia for my first permanent job. This led to the assistant archivist job I had at Mudd Library at Princeton University. There was some luck in timing since Princeton was going through a period of change with many opportunities to be promoted — this is how I got to the position I am in now. I currently lead archival processing and collections services within Special Collections. I never thought I would be at Princeton for as long as I have been, but it has worked out well for me and I enjoy my work.
Advice for getting into the information field
My advice would be to get hands-on practical experience and as much of it as possible before you go out and apply for jobs. Get those experiences, particularly in libraries and archives, because you need the experience to get the job — people are looking at what you have done in the field. Furthermore, seek out challenging experiences because UMSI is always at the cutting edge of this field. Those experiences are going to help set you apart.
Most valuable UMSI experience
I completed a digital preservation internship in my second semester at UMSI. It was one of those experiences that I never thought I would be doing, but it was really valuable. It looked great when applying to jobs since it set me apart from others. It also introduced me to many of the challenging problems in this profession through hands-on experience. I would also like to say that the UMSI Career Development office was the best resource in my career. I hire many folks now, and some of the resumes and cover letters I read make me think, "This person needs career services at UMSI." That support and knowledge of the various industries was invaluable in helping me learn how to navigate the job market and put together packages that were going to get my foot in the door in a highly competitive field. 
Parting thoughts
I have always had an interest in history. I received a PhD in American history before switching careers because the traditional academic work was not a great fit for me. Part of it was because academic work is very precise and detailed, while I was more interested in people's stories, and that was what spoke to me about special collections and archives. Something I've been able to notice in this line of work is that the younger generation is motivated to center the work on people rather than the materials. Many people get into special collections for the materials and collections — don't get me wrong, I care about the materials, but I care about them in relation to people. That was why UMSI was a good fit for me, since it is all about connecting people with information. I thought that I could touch people's lives by working with the materials and information in archives. A lot of my work is digital technologies and web-based discovery systems, and while that is not exactly what I imagined, I love it. It's what centers me and drives me in the work I do. My work is a mechanism for connecting people to themselves. The stuff is meaningless outside of that.
— Sept. 16, 2021
Learn more about UMSI's Master of Science in Information program and how to apply.
Send UMSI an update and share your own Alumni Snapshot with the world.