University of Michigan School of Information
Alumni Snapshot: Allan Martell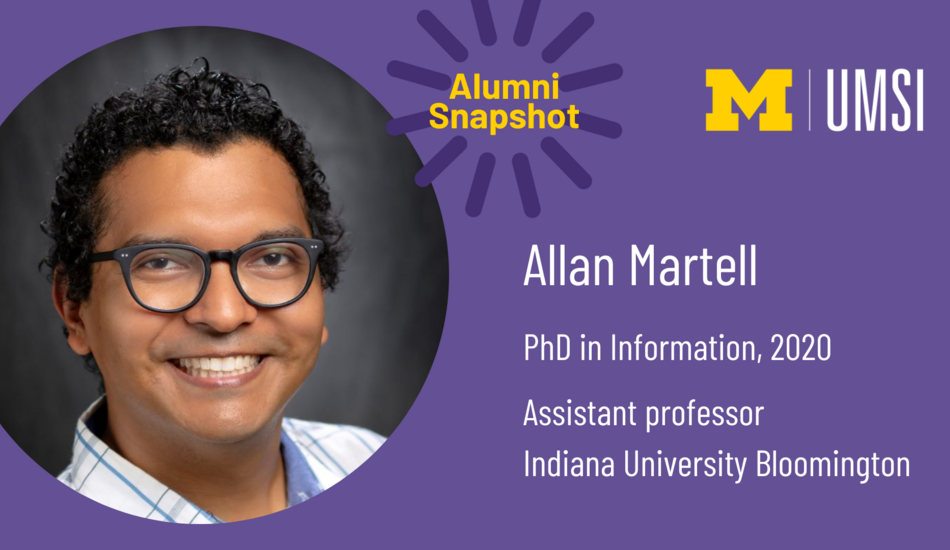 Allan Martell
PhD '20 (Data curation)
Assistant professor, Indiana University
I am currently a postdoctoral researcher at Louisiana State University (LSU). In the fall I will be an assistant professor in the Luddy School of Informatics, Computing and Engineering at Indiana University Bloomington. As a postdoctoral researcher at LSU, I collaborate with the virtual Footlocker Project. This is a project that is concerned with documenting the experiences of modern soldiers and people who have served in armed forces from the year 2000 and onward. That time period coincides with the advent of the digital revolution and widespread access to the internet, which impacts veterans who are at risk of losing an important part of their experiences by lacking analog personal archives. This gap in preserving information matters because veterans have committed themselves to serve and even sacrifice their own lives for this nation. Also, research in anthropology and sociology shows that there is a pipeline that pushes people from disadvantaged and marginalized communities into the armed forces and those individuals' stories are often lost. Finally, the project is important because the U.S. has been involved in significant military conflicts since the end of the 19th century. Understanding the experiences of the soldiers is historically relevant. This knowledge provides input from the soldiers themselves about how U.S. involvement in war is lived in the field.
UMSI skills in work
For the work I do, it has been very important to become comfortable preserving digital information, which is something I began learning at UMSI. Even though the school is divided in different tracks, we would often collaborate. I remember collaborating in professor Florian Schaub's lab on digital privacy and that experience also shaped some of the ideas I use when I am preparing educational materials here at LSU for the Virtual Footlocker Project. Through my work, I have realized that veterans are very much concerned about privacy and they have good reasons for that. Veterans receive training on digital security as it relates to cyber warfare. In addition, some are also concerned about the sensitive nature of the information they handle in some of their missions. Any breaches or mismanagement of such information could potentially compromise the safety of themselves, their families, or third parties collaborating with the armed forces, or could pose a danger to national security. Protecting the privacy of their information is very important and I've even been thinking of writing a paper about how the data privacy community could collaborate with archivists in coming up with ways that allow archivists to best address veterans' concerns regarding information privacy. 
Motivation for pursuing information
Though I had known for a long time that I wanted to do a PhD, I hadn't always known what I wanted to do the PhD on. That came organically as I progressed through my studies and professional career. I got my undergraduate degree in El Salvador in social communications. I had the opportunity to learn about video and audio production and was a journalist for a traditional journal of national circulation. I graduated from my undergrad in 2008 and I became curious what I could do with media production which could combine all these interests. That's how I stumbled upon the field of digital media since it embraced the intersectionality of information. From there, I ended up going to Georgia Tech to get my master's in digital media. During my master's program, I realized that what I ended up producing as my thesis project was actually a historical archive of stories. When I developed that, I knew that was what I wanted to do and that was how I entered into the field of information and became curious about Library and Information Science. I was lucky enough to meet professor Margaret Hedstrom and professor Joyojeet Pal who recruited me for the PhD program at UMSI. My area of concentration is Library and Information Science and this field is very much focused with the process of organization, production and preservation of information in the long term and how that can be achieved through different means and institutions.
Most valuable UMSI experience
The experience of being at UMSI did transform my life for the better. This has to do with not only the diversity, but the intersectionality of the diverse group of people at UMSI. The diversity combined with the tensions and messiness of that has provided me with the opportunity to have meaningful encounters from my time at UMSI. Before UMSI, I didn't have many opportunities to meet people who openly identified as transgender or any part of the LGBTQ+ community. I also got the opportunity to interact with people from East and South Asia and the Middle East. If anything, the one thing I found unfortunate was that there were so few people from Central America in the program. Nevertheless, I was really impacted by my interactions with people of color, namely Black students in the program. The few who I met really shaped the way I see the world. 
Advice for students
Something I don't recall myself doing, but I know a lot of people in the MSI and the PhD program did, was map out the entirety of their time in the program. Before your first semester begins, be sure to have a plan: What courses do you want to take? What student organizations would you like to join? What other extracurricular activities do you want to do there? This is especially important for master's students since their programs are really short. Map your journey out ahead of time so you can focus on executing the plan while knowing that the milestones you have set up for yourself are probably going to change. Another piece of advice is building connections with peers. The professors are certainly a wonderful resource, but I think that a big portion of the experience of being at UMSI has to do with engaging with like-minded peers around the same phase in their professional development. You learn a lot from them and their support is  going to be pivotal to your success.