University of Michigan School of Information
Alumni Snapshot: Olubisi Ajetunmobi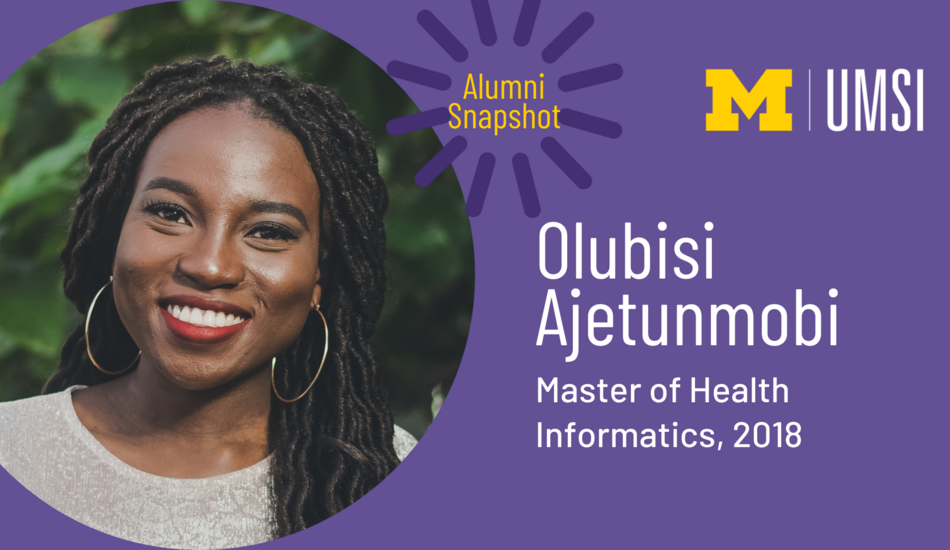 Olubisi Ajetunmobi
MHI '18
Lead Research Data Analyst at Healthcare Information and Management Systems Society (HIMSS)
As the lead research data analyst for HIMSS's Office of Scientific Research, I develop the research capability and performance analytics functions for the organization. In my role, I plan, lead and manage the development, implementation and evaluation of major research or complex data analysis projects, ensuring that consistent, quality research is delivered. I serve as a subject matter expert on issues pertaining to data collection, validation and analysis that help inform strategic priorities and attainment of goals. 
Advice for getting into the information field
A piece of advice I would give those interested in getting into the information field is to do your research before you start a program. Learn about the different types of careers that exist in the information field and which ones interest you the most. Doing this research will help make your path a lot clearer while you are in the program.
Most valuable UMSI experience
One of the most important things I learned from the Master of Health Informatics program is the importance of understanding how to market yourself and your skills. Some people are still unfamiliar with the possibilities of the health informatics and information science field, so it is important for all students to learn how to market themselves to potential employers who need their skills.
Best UMSI memory
It is difficult to pick just one memory. My best memories of UMSI were all of the moments I got to spend with my classmates. 
Parting thoughts
I have three additional pieces of advice. First, make sure you get to know your classmates. My classmates really made my experience in the program and I am not sure what I would have done without them. The second piece of advice is to go after any opportunity you want in the field and never doubt yourself. The moment I stopped doubting my skills was when opportunities began to pour in and that is when I began to excel in my career. Finally, remember that practice makes perfect — be sure to practice anything you want to improve on, whether it be coding, UX design or other skills. 
 
Learn more about Olubisi in her Faces of UMSI profile. 
Learn more about UMSI's Master of Health Informatics degree and how to apply.
Send UMSI an update and share your own Alumni Snapshot with the world.