University of Michigan School of Information
Alumni Snapshot: Emily Gottschalk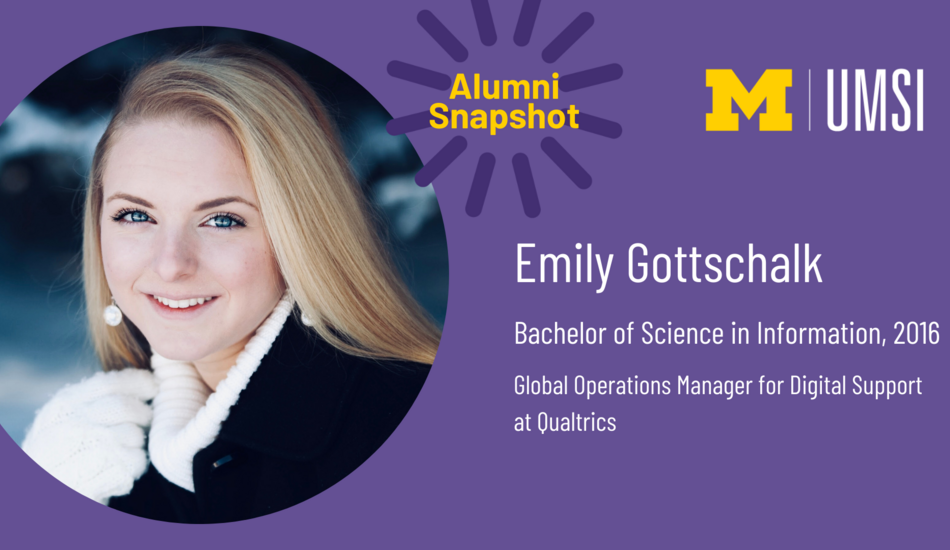 Emily Gottschalk
BSI '16 (User Experience)
Global operations manager for digital support at Qualtrics
I have recently been promoted to this position within the last year, but I have been working at Qualtrics since graduating from UMSI. I started on the operations team, and after nine months, I was given the unique opportunity to start what is now called our Digital Support Experience (DSX) team. The team was created because we realized there was an opportunity to significantly improve our digital support presence. This included creating complete, scalable product documentation in addition to kicking off a new online user community, something our customers had been asking about for quite a long time. My task was to create the team that would do this work. Four years later, I now manage a team of writers, community managers, user experience (UX) designers, developers and digital marketers that are responsible for developing, maintaining and marketing all aspects of our digital support offerings that enable customers to self-serve their product enablement needs.
UMSI skills in work
I can truly say that I have relied on my degree every single day in my professional career. I was able to combine my UX experience and writing skills to help build the groundwork for our support portal and qualtrics XM community sites. I recall pulling information from my school textbooks as points of reference for the design choices we were making within the community. I remember citing directly from one of my textbooks when presenting to my director about the direction we were heading in as a new team. It was incredibly useful to have these data points and experience to back up the vision we were wanting to execute.
One of the particularly useful classes that comes to mind is SI 429, "eCommunities" with Nicole Ellison. After learning the fundamentals of building successful online communities, I became a grader for SI 529 (the graduate-level equivalent) with Cliff Lampe, and so I felt like I lived and breathed that class for an entire year. All of those concepts, to this day, I am still using to onboard team members and provide resources that they could use in their work. I also still look back on SI 334, the "Persuasion and Social Influence" class. We read "Influence: Science and Practice" by Robert B. Cialdini, which talked about different ways you influence human decision-making with specific design choices. This can be directly applicable to the challenges I am looking to solve every day. For example, not everyone is going to be inclined to self-service their support needs (even when we do have the answer to their question), so we seek ways that we can design the digital support experience to be easy, approachable and incentivizing. Not only is it more expensive to have to speak with a customer on the phone, but it increases customer satisfaction to get answers quickly via self-service.
The final UX capstone project also taught me a lot about the right ways to approach problems. I find that many people in tech will jump ahead and try to solve problems quickly without understanding the root cause, but I try to ask first and foremost, "Do we even fully understand the problem we are trying to solve?" I believe that is what SI taught me to do — solve problems from where they originate instead of simply treating its symptoms. Those skills never leave you, and I believe they can be applied broadly beyond just UX as well. 
Motivation for pursuing information
At the time, I was primarily focused on my English degree during my undergraduate years. That was my first love and my passion. But I also had no knowledge about information science or UX. When I heard about the new BSI program they were launching from the School of Information, I got really interested in the idea of UX and how that can meld with an English degree. I thought they complemented each other very naturally, but many people didn't seem to think so. A lot of personal advisors asked why I was pursuing both of these degrees, and I would tell them that I had always wanted to be an editor and I see UX as the "editor of the technology world." An editor or a UX expert are both trying to provide the best experience for the end user, which could be someone navigating a website or someone reading a novel. During my degree, UX writing was never even really discussed as a unique, separate career path (because it wasn't differentiated too much from a typical UX role), but nowadays it is a role companies actively look to hire for, demonstrating quite tangibly how a UX and English degree can blend together in a single career. 
Favorite UMSI memory
There was so much that was just brand new; after all, I was a part of the very first BSI class. In all of my classes, the professors would say, "We've never run this class before, we do not know how this is going to work, but we're going to figure this out together." It was a very feedback-heavy process, and it felt like we were a part of building the BSI program. Just watching things change and evolve over my short two years in the program was really fun. In terms of my most memorable moment, it had to have been when Professor Cliff Lampe taught SI 110, the BSI introductory course I took my sophomore year. On Halloween, he came into class with a full Hagrid costume. He was dead serious while teaching us dressed with a full beard and coat, and it was definitely a highlight of my college career. I think it might have been then when I realized I could definitely fit in well with the School of Information. 
Advice for students
With my degrees, no one really saw the connection at the time like I did. If you feel pretty strongly that there is a connection or a new way to blend certain types of knowledge, you should pursue it. Just because someone else may not see it, it doesn't mean that it doesn't (or won't) exist or that you should stop working toward it. The SI program believed in me and the endless possibilities I saw with this degree, and I am forever grateful for the opportunities that have arisen from it.
— April 25, 2022 
Learn more about UMSI's Bachelor of Science in Information program and how to apply.
Send UMSI an update and share your own Alumni Snapshot with the world.