University of Michigan School of Information
Alumni Snapshot: Jeff Tang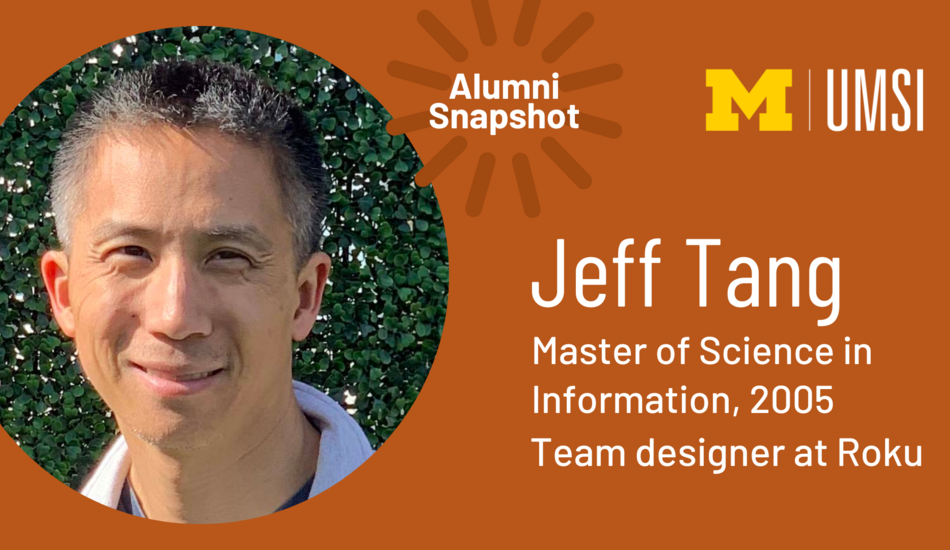 Jeff Tang 
MSI 2005 | Human Computer Interaction
Team designer at Roku 
I currently work on the design systems team for the streaming media company Roku. We build user interface kits and help govern the design system and its evolution. I worked previously in mobile phone design, TV design and web design before joining this team. I took a lot of paths doing various things that I would not have envisioned 15 years ago when I graduated from the UMSI program.
UMSI skills in work
The foundational principles of UMSI education and activities are still relevant. Conducting user research, designing for users, running usability testing—those are all still applicable today.  
Motivation for pursuing information
When I was in undergrad, dedicated tracks in user experience did not exist so I got my degree in studio art. I learned the basics of drawing, composition and color, which are still useful for me today. However, I felt I needed to go back to school for human factors or user experience in the growing field of internet technology. SI was known as a strong program with access to other schools like Ross School of Business. It really helped me build foundational skills in user experience that I would not have been able to learn otherwise.
Favorite memory at UMSI
The fact that SI really emphasizes teamwork and collaboration is good preparation for the real world. When you are part of a group project, you are dealing with different personalities, temperaments and varying levels of responsibility. User experience is a very cross-functional field in my opinion. When you get a job in design you have to work with product managers, engineers, marketers, clients and more. I think one of the most valuable aspects of getting a degree in SI is collaborating with others and working on projects to try producing good outcomes. 
Advice for students
First, try to focus on the things you enjoy doing and don't just try to get a job. If you are passionate about the industry or what the job offers then try to go for it. Also, try not to settle for companies or managers that are not as mature in their design processes or are not a good fit for you. You will learn the most at great companies with great managers that engender good design. 
Network, be nice to other people and always keep learning. The tech field is so large and constantly changing that getting a degree is a big accomplishment but also just a starting point. A lot of real work and learning will begin after graduation so attend conferences, find mentors, read books, listen to podcasts and do whatever you can to stay up to date. 

Learn more about UMSI's Master of Science in Information program and how to apply.