University of Michigan School of Information
Alumni Snapshot: Justin Cohen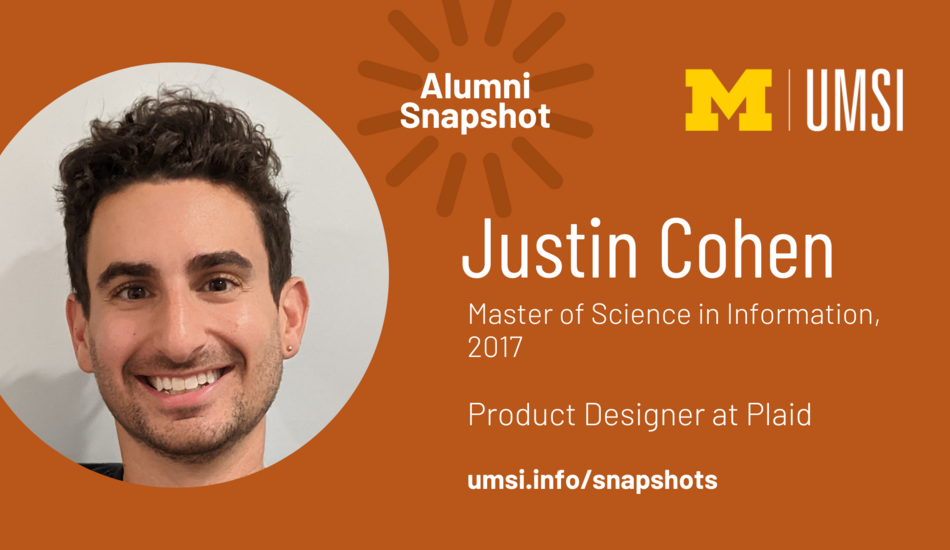 Justin Cohen
MSI in Human-Computer Interaction, 2017
What do you do in your current position?
I am currently a product designer at Plaid. At Plaid, product designers are responsible for the entire UX process, so both research and design. I specifically work on technical tooling and documentation for developers.
Where did you work before this? How was that experience compared to the experience you now have at your current company?
Before Plaid, my first position was at Google. I expected to work on a consumer product, but instead I worked on the admin and security experience of companies adopting Google Workspace. After a few years, I moved to New York to work on Google Cloud Platform, building tools for developers to build and launch code on Google Cloud. Again, just going more and more technical. Those experiences prepared me for Plaid, where I'm also working on developer tools. I think it's a great space to be in.
Is there a project that you've worked on or will work on that excites you?
We just launched a product called Permissions Manager API at Plaid. It has a consumer slant that I think people might be interested in. 
If you don't know what Plaid does, Plaid connects your banks with all the fun fintech apps that you use. Venmo, Robinhood, TrueBill and Coinbase are all powered by Plaid. Let's say, you bank at Chase and you want to use Venmo. Plaid connects Venmo to your information at Chase, like your account number, routing number and balance. 
This API allows banks to let consumers manage those connections. You could go to your bank's website or app and see all of your connections. If you want to disconnect, say, from Coinbase, you can switch that off so that Coinbase can no longer access your data. It's all about consumer privacy permissioning, which puts a lot of power in the consumer's hand that they previously didn't have.
What does a day in your life look like?
Day by day, I hop around from product team to product team. I work with engineers who are implementing my designs. I work with product managers to figure out what we should be designing. Then I conduct research with our users. Finally, I do design work in Figma like a lot of designers. I would spend a few hours messing around with Figma, and that's where I get the most joy. But I'd say the majority of the time nowadays is spent building relationships with product managers, engineers and our users.
I think designers are definitely more invested in building those relationships. It's more obvious to designers sometimes. Engineers aren't always thinking, "oh, gosh," you know, "become best friends with designers." But designers would think, "I've got to become best friends with the engineers." It's getting to know people on a personal level, going out to lunch with people if you're co-located and getting people involved in your design process.
I found that engineers love reviewing designs well before they're ready and giving feedback, or just as an FYI. Even if they're a back-end engineer, it's nice for them to see where the product's going. I like to put together a vision prototype that I share with the whole team to say "hey, if we work really hard for a year, our product could look like this when it's launched." I found that that gets everyone really excited.
Was there a class, program, or professor at UMSI that was helpful for you?
There was a class cross-listed between Ross, Engineering, Design and Information: Integrated Product Development. You basically get put on a team of engineers, business folks and designers. You get to work with engineers to build things and see your designs come to life. Then your final product competes against other teams' at an Expo. Expo visitors will be given fake money and buy products they were most interested in.
Cliff Lampe had a class: Citizens Interaction Design. We went to Ferndale, Michigan, and we worked with Ferndale folks who were having problems with rat infestation. We built this funny tool called Rat Chat, a texting service that Ferndale people used to report to the city where they saw rats, and the city was able to respond all through Rat Chat.
Would you like to share some advice for UMSI students?
When I interviewed with Google for my first role — and this is the advice I give a lot of students now — I worked out right before the interview. After working out, I was in a really good mood. I brought a lot of energy and passion to the interview, and I think Google saw that. Maybe, you know, my designs weren't that great, but I had a thirst to learn and was really passionate about UX. 
As long as you show that you're passionate about the company you're interviewing with, about design, and show that you can self-learn, someone will be willing to take a chance on you.
A great way to self-develop your design craft is to pick a favorite app and redesign it in Figma yourself. Make it pixel-perfect. Go screen-to-screen. Go through the entire process of paying someone on Venmo, then go to Figma and recreate those screens. You'll start seeing patterns in how different companies use typography, spacing and layout. Eventually, you'll see there's not that many ways to do that, and you'll learn how to apply that in your project.
If you were a new graduate trying to get their foot in the door in tech, how would you go about that?
This is actually an awesome moment to get into the field. There are a lot of smaller companies doing awesome things, who maybe raised funding from VCs a year or two before all this. They might grow into the next Big Tech. Take a risk if you're able to. Go to a startup or mid-sized company that no one's heard of, and learn there. Next thing you know, you might be at a company that everyone wants to work for.
Published June 2, 2023