University of Michigan School of Information
Alumni Snapshot: Krishna Vadrevu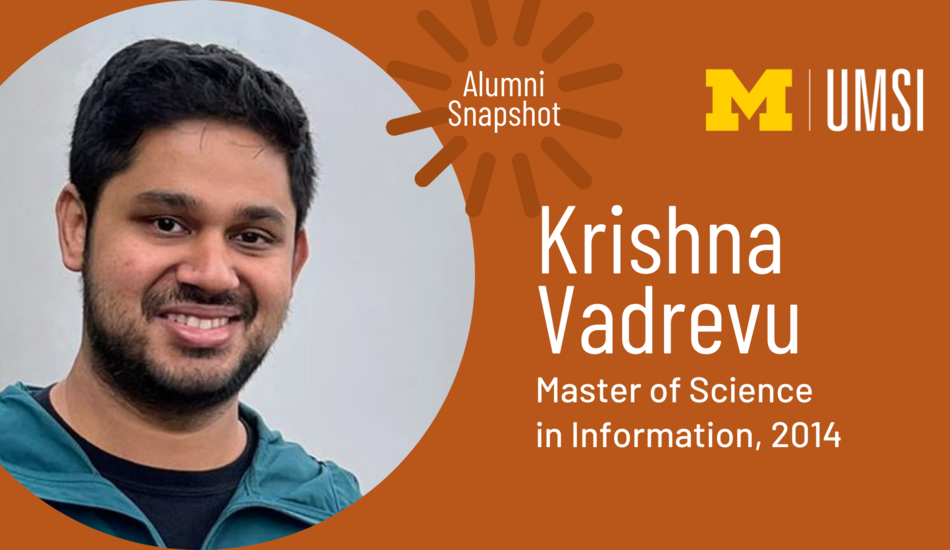 Krishna Vadrevu 
MSI '14 (Human-Computer Interaction) 
UX Designer for Nutanix
Since I graduated from the University of Michigan School of Information (UMSI), I have been working as a user experience (UX) designer. In my current position, I work as a UX designer for Nutanix, an enterprise company that works on developing simple and affordable cloud platforms for other organizations all over the world. We work on making consumer grade experiences for enterprises, and we create products to help our customers simplify their datacenter and cloud services experience. 
Advice for getting into the information field
I think there's plenty of resources and alumni to reach out to while you're in UMSI programs — embrace that. There is also such a diversity of thought at UMSI, so take advantage of that opportunity to learn from others. That's ultimately the best way to get the most out of your experience in the program and throughout the rest of your career.
Most valuable UMSI experience
I would have to say my most valuable UMSI experience was the opportunity to explore. Whether it was through classes or internships, I could tell that the School of Information really cared about student life and the experiences we had in the program. I did Alternative Spring Break during my second year and worked with a company in Chicago to do design work. I was also the treasurer in the School of Information Master's Association (SIMA) and an officer in the human-computer interaction student organization. 
I had the opportunity to organize and co-lead the World Information Architecture Day Conference, bringing in 200-300 people from all over the world to campus. All of these opportunities really helped me see what UX is all about and work with different companies for real-world experience. 
UMSI skills at work
I view the Master of Science in Information degree fundamentally as a comprehensive deep dive into how humans interact with information, and the human-computer interaction concentration as a specific aspect of that. My chosen career field of UX design allows me to implement the lessons I learned within that larger space. The Contextual Inquiry course I took in the beginning of my program really brought together all different concentrations, including design, library sciences, data science and many others to solve a real problem in the workplace. That was so vital to learning about how interdisciplinary the field really is and all the various aspects of information science. 
Motivation for pursuing information
Prior to UMSI, I had a bachelor's degree in cognitive science, so I've always had this interest in people, technology and how we interact with one another. Cognitive science is a really research-heavy field, and I quickly learned that I was not interested in pursuing academia. I learned about UX in my senior year of college and I researched the master's program at UMSI to see what it was all about. Immediately I realized that this field was the opportunity to apply the curiosities I had and use them to improve people's lives. Information is really the cross section of those interests, bringing it together.
— Nov. 23, 2021
Learn more about UMSI's Master of Science in Information program and how to apply.
Send UMSI an update and share your own Alumni Snapshot with the world.