University of Michigan School of Information
Alumni snapshot: Naim Falandino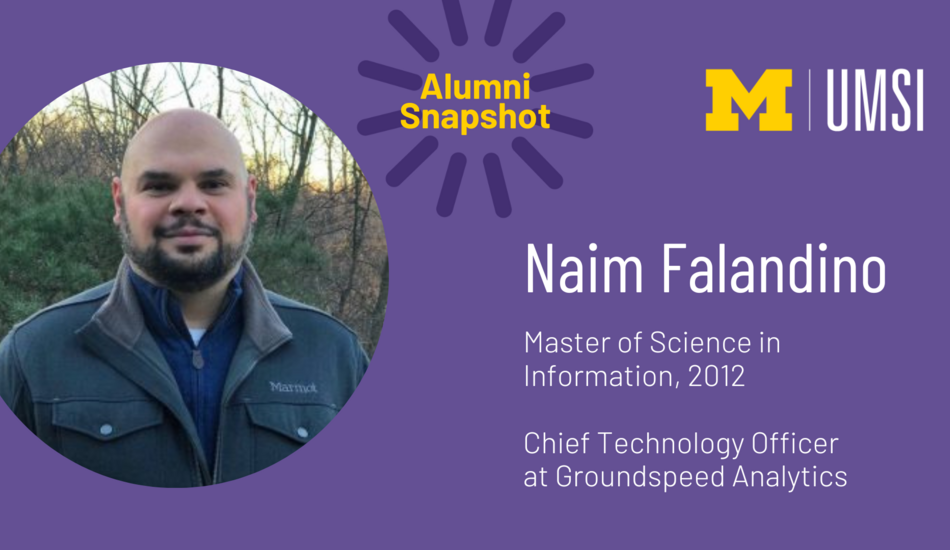 Naim Falandino 
MSI 2012  
Information Analysis and Retrieval (IAR) and Human Computer Interaction HCI
Chief Technology Officer at Groundspeed Analytics
Currently, I am the chief technology officer at Groundspeed Analytics. Groundspeed is in the commercial insurance space, focused on transforming business processes that would benefit from more access to higher quality data which is locked away in a myriad of documents. We use artificial intelligence and other automation techniques paired with a human-in-the-loop to extract, cleanse, annotate, normalize and ultimately enrich a wide range of data for companies to use in their business processes, such as submissions and underwriting. Prior to joining Groundspeed, I was part of the founding team of Deepfield, a startup focused on telecommunications and network analytics. As Chief Data Scientist, my role focused on how we processed, managed, analyzed and presented the vast amounts of network telemetry we collected. In 2017 Deepfield was acquired by Nokia, where I then served as Director of Research and Development.
UMSI Skills in Work
One of the areas I concentrated on in the information analysis and retrieval and human computer interaction track was natural language processing and text analytics. The document processing work I do has a lot of text that benefits from an analytical perspective, leveraging a wide range of techniques to produce high-quality, actionable information. Clustering, multi-classification, named entity recognition, text embeddings, and sequence-to-sequence learning all come into play to handle the task of human-level information extraction. Additionally, we use a human-in-the-loop process to handle the cases that the machine isn't capable of. 
I think about the human-computer interactions of the system to create fast and efficient tools and processes for human operators. Automating the extraction and structuring of such a broad range of content is challenging, but by carefully breaking down the problem we have been able to make significant progress. 
Motivation for Pursuing Information
I came to UMSI looking to deepen my skills and network after seven years in the workforce. After completing my undergraduate degree in computer science I first went into finance, where I worked on anti-money laundering and fraud detection solutions. This, and later experiences building data-centric products, solidified my love for using data to solve complex problems. After some time considering graduate computer science programs, I found UMSI and was attracted by the interdisciplinary nature of the program, where I could deepen my existing experience and branch out into new areas.
Most Valuable UMSI Experience
In terms of course work, I really liked Information Visualization with Eytan Adar, Pervasive Computing with Mark Newman and Personal Informatics with Erik Hofer. In each of these classes we were able to dream up new ideas of how information and computing could enrich people's lives, and I really enjoyed the projects. 
One of the student-led initiatives I really enjoyed was the A2 Data Dive, a project started by Nikki Roda, who was in her first year in the program at that time. This project partnered UMSI students with community groups and nonprofits to help them with their data problems. It was a fun weekend long hack-a-thon style event, and I enjoyed helping run a few workshops over the next couple years. Overall, the best thing about UMSI is the very diverse group of people and backgrounds it attracts, which always brought a lot of unique perspectives into our projects.
Advice for Students
For graduating students who are joining the workforce, don't be afraid to be vocal about what you are looking for. If you are not being exposed to the opportunities you want, start a dialog with your supervisor to see what they can do to help. You are ultimately responsible for your own destiny. Take time to reflect, be introspective, and make sure you're working on something interesting that pushes you to keep learning.
For incoming students, the time you spend in this program will fly by. Take advantage of it! Graduate school is one of those things where you get out of it what you put into it. Buckle down. Do the fun stuff, do the hard stuff and make connections with the faculty and your fellow students. There are a lot of interesting opportunities available if you look for them.