University of Michigan School of Information
Alumni Snapshot: Nisreen Salka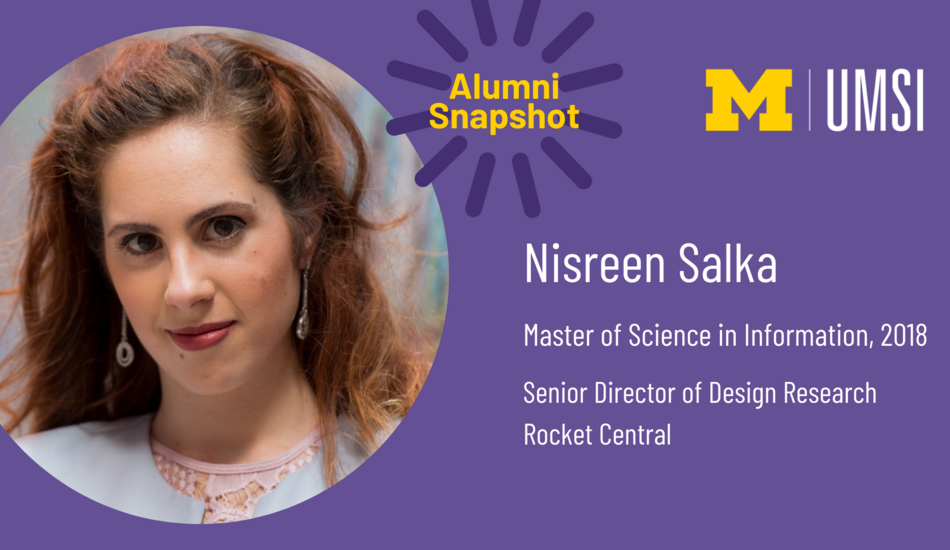 Nisreen Salka
MSI '18 (Human-computer interaction) 
Senior director of design research at Rocket Central
I am currently the senior director of design research at Rocket Central (which includes Rocket Mortgage, previously known as Quicken Loans). We transitioned from a generalist team to specialized disciplines in January 2021, and so the user experience (UX) research team is relatively new. Some of our team members have more of that generalist background, and some are true specialists, so it's been interesting to come together and learn more about what UX research could be.
UMSI skills in work
My experience at UMSI was unique because I was working full time while still being a full-time student. Every time I learned something new in the program, I would use that in my work the next day. It was a feedback loop where I was constantly learning and applying. 
UMSI, in my opinion, has one of the most comprehensive UX curriculums available. It has a good mix of graphic design, experience design, research and psychology courses. You learn about the various facets of the industry, which gave me a very unique perspective in the workplace. I never felt limited by my knowledge and always felt prepared for any problem that arose. 
Another thing UMSI taught me was empowerment. The culture in UMSI is very supportive of speaking up and building an argument that works. The presentation skills I developed also gave me an ability to defend the decisions I was making in the workplace. That taught me how to evangelize UX and advance my career. Now, as a leader, I want to give my team members the same voice that UMSI gave me when I was in the program. 
Motivation for pursuing information
In undergrad, I studied screen arts and business. I was planning on going into entertainment marketing, designing billboards and marketing strategies for new films. Although I had the opportunity to intern in California, I decided to stay closer to my roots in Michigan and work with a local branch of the digital advertising firm MRM//McCann. I worked in customer experience research, supporting strategies three to five years into the future. 
When I began collaborating with the UX team, I was amazed by the immediacy of the work we did together including research, ideation, execution and launch. I just loved that approach. After finishing up that project, I instantly applied for human-computer interaction (HCI) master's programs so that I could change my career path. UMSI offered me a scholarship that made it incredibly affordable for me to attend grad school and I finally had the chance to learn more. 
Favorite UMSI memory
Friendships for sure. All of us being part of a small community was such a fun time. My favorite courses discussed behavioral design and how to motivate and measure behavior change with technology. It pulled from a little bit of everything that we had learned throughout the program, while feeling like the sky was the limit for the final project. 
I also adored taking a web development course taught by Colleen van Lent, and it was through this class that I realized I loved to code. It sounded like one of those tedious tasks, but the class helped me see web development as more of an art form than strict science. I don't do much web development in my job right now, but I remember getting super into it for a while. 
Advice for students
Just live a little and play a little. You do your best work when you are happy. Take care of yourself first. Start a passion project to see where that takes you. UMSI grads have their pick of job opportunities so see what you really want — if it's a large corporation or a smaller local organization. By following my passion, I have been able to find my happy place, and I want other students to find that as well.
— May 19, 2022 
Learn more about UMSI's Master of Science in Information program and how to apply.
Send UMSI an update and share your own Alumni Snapshot with the world.