University of Michigan School of Information
Alumni Snapshot: Shaelyn Albrecht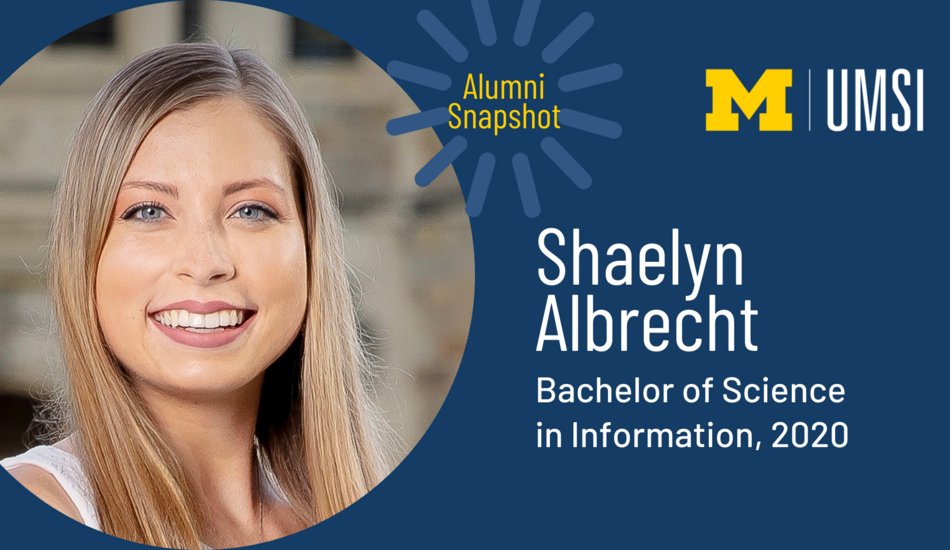 Shaelyn Albrecht 
BSI '20 (User Experience Design; Minor: Computer Science)
Associate Product Manager at IXL Learning
I am an associate product manager at IXL Learning. IXL is a personalized learning platform that provides K-12 curriculum with individualized guidance to empower students to take ownership of their learning. IXL also provides real-time analytics to help teachers tailor their instruction to their students' needs. As an APM on the Student Experience team, I get to collaborate daily with designers and engineers to define new features that provide meaningful, challenging and motivating learning experiences for all students. 
Most valuable UMSI experience
The spring semester after my sophomore year, I was able to take SI 350: UX Field Research in the Public Sector. This was an intense three-week-long course that pushed me out of my comfort zone and also inspired me to want to work on meaningful projects! It was so rewarding to work with an actual client. The skills I learned, such as how to research and identify users' pain points, define a problem space, write clear and concise goals and project plans, and collaborate with a team efficiently, are skills I leveraged throughout the rest of my SI education and now in my job as well! 
Best UMSI memory
This is silly, but let me start by saying I love sticky notes! So I was absolutely thrilled when I learned about affinity mapping and got to make affinity maps in many of my classes. Not only is affinity mapping a very helpful way to visualize data and ideas, it's so colorful and fun to use sticky notes and physically move your ideas around! Aside from that, I also really appreciated the smaller class sizes because I was able to grow close with and go through the BSI program with a great group of friends. 
Application of UMSI skills in current work
The BSI program provides a great foundation in user-centered design and research principles. In my role, I work very closely with our UI designers to flesh out the user experience of our features, so it has been so helpful to pull from my class experiences of thinking through user flows, wire-framing and prototyping interactions. The communication, collaboration, team-building and time management skills that UMSI's project-based curriculum helped me develop are also essential to my everyday work with my team. 
Advice for getting into the information field
As a product manager for an education technology company, it's definitely been helpful that I bring a UX perspective and experience in computer science. Having this background helps me to think critically about what we should work on and why (although I believe you can develop those skills from a wide variety of experiences), and I'm also able to communicate more easily with my team of designers, software developers and QA analysts. If you're able to take some courses from both BSI pathways, you will get a great mixture of skills that can propel you into product management without needing to take courses specifically about product management. The role of a PM can vary from company to company, so I would also recommend reaching out to PMs for coffee chats to just learn and build relationships. Most importantly, I would just recommend building your work experience through internships in something you're interested in. Focus on developing your collaboration and communication skills; if you have a chance to lead a group discussion, go for it! Look for opportunities to work on projects from start to finish, and don't be afraid to ask questions and reach out to people along the way. Also, if you're interested in edtech specifically, the university's Center for Academic Innovation has amazing opportunities for fellowships!
Learn more about Shaelyn in her Faces of UMSI profile. 
Learn more about UMSI's Bachelor of Science in Information degree program and how to apply. 
Send UMSI an update and share your own Alumni Snapshot with the world.