University of Michigan School of Information
Alumni Snapshot: Zahra Langford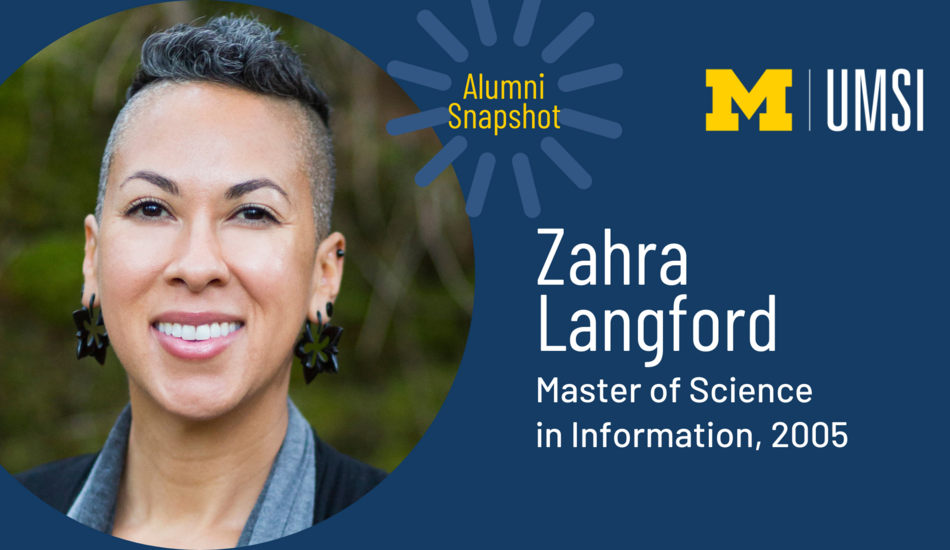 Zahra Langford 
MSI '05 (Human-Computer Interaction) 
Director of User Experience Design at HealthPointe Solutions
I work as the director of user experience (UX) design for a healthcare technology startup and have been with the company for almost three years. I do a lot of everything, but my primary focus is on design strategy for our web and mobile applications. I manage a small but mighty team of designers and contractors. Together we move projects forward while establishing and using design standards such as style guides and design patterns. I have over 20 years of UX design experience in various other industries including ecommerce, enterprise services and education.
UMSI skills in work 
Some skills I still think are foundational in the industry are critical thinking, teamwork and clear communication. I pull a lot from my understanding of how people search for and process information. Healthcare applications are by nature very complex, encompassing critical information for both patients and providers. So I try to think about the most important components of information and how best to design experiences that make task completion easier. I also try to incorporate user research techniques whenever I can."
Motivation for pursuing information
The work I was doing as a web designer was starting to feel less challenging. I was looking for something to take my career to the next level and then I encountered interaction design (what UX design was previously called). I saw it as an opportunity to bring all of my skill sets together. I am creative but also process-oriented and enjoy complex problem solving — that's what drew me to UMSI in the beginning. I applied to five different schools and I got into all of them, so at that point it was deciding how far each degree could take me. I knew I could do anything with a degree from University of Michigan. Additionally, Louis Rosenfeld (MSI '90) and Peter Morville (MSI '93) came out of the program and wrote the first book on information architecture. They were people in the field I really looked up to, so that was also a reason I knew about the School of Information. 
Favorite UMSI memory 
I have a lot of great friendships that came out of the program. One of the most valuable things was my summer internship. That's where you really start connecting the dots from the coursework to the actual workplace. All my jobs have been so different that there is nothing in the classroom that can really prepare you for that. It is all theoretical until you are sitting in a cube and really getting into it all. 
My internship was at Xerox, and the company had an established relationship with the UMSI program. There was a woman named Kara Goldstein at the company who had graduated from the program in 2003. I ended up working there full-time after graduation. My internship was what helped me get my first job in the industry. And even though your internship may not lead you to a full-time job, it is still valuable to have it right in the middle of your coursework so you can identify the things you need to learn in your second year. Xerox employed me for almost 10 years (in three different roles), so you can't even put a price on that experience and the connections I made there. I was even able to bring in a UMSI intern for one summer while I was there, Voratima Orawannukul (MSI '07).
Advice for students 
Get some work experience before going into the industry. Your ideas for what the work is like may not be realistic if you do not have any experience. Also, I came in with a lot of skills like Adobe Photoshop and HTML. At that time, students did not have to have that foundational knowledge coming into the program. I know it helped me immensely going through the program and having the basic skills under my belt. If you are entering the program, I would advise you to get those skills prior since you will not be able to get away from them when in this field. 
Another piece of advice is find a way to stand out. This field has become very crowded. I see a lot of people out there trying to get into information school programs or learn about design and UX online to get jobs in this industry. Not everyone else will have this UMSI degree, which is from a well-known program and a great school. Use it to your advantage and let employers know about your credentials. Having a portfolio is also a big thing for designers. You must be able to show your past work and design process. It is a requirement for getting a job in UX design. 
Lastly, utilize your network and connections. People with affiliation to the University of Michigan are always looking forward to the opportunity to talk to others from U-M, so use that to your advantage and keep learning from others.
— Jan. 7, 2021 
Learn more about UMSI's Master of Science in Information program and how to apply.
Send UMSI an update and share your own Alumni Snapshot with the world.