University of Michigan School of Information
Alumni Snapshot: Anne Beaubien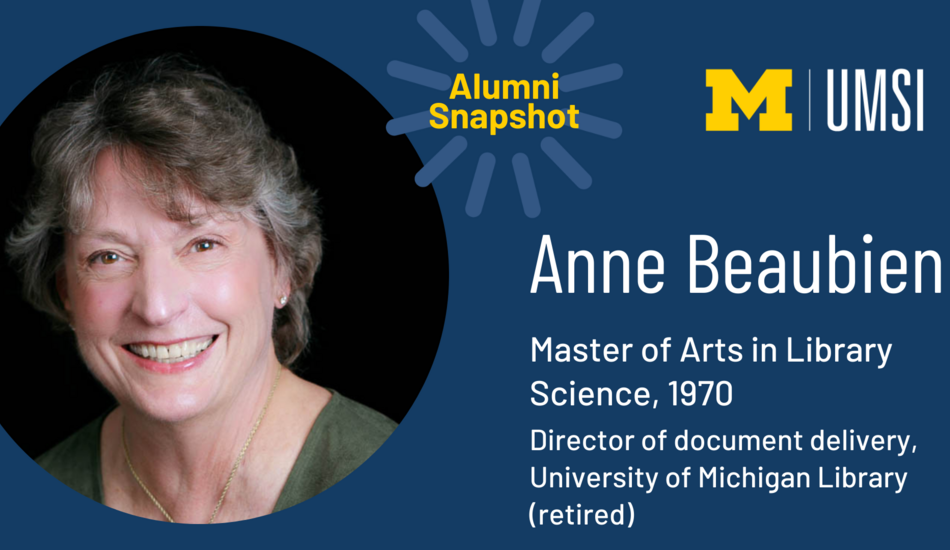 Anne Beaubien 
AMLS '70 (Library science)
My career started in 1971 as the social science specialist in the reference department at the University of Michigan graduate library (Harlan Hatcher Graduate Library). After a few years of helping patrons, my colleagues and I realized that most people didn't know how to use a library. So we created a library instruction program for faculty and students, emphasizing search strategy. We offered both "one-shot" presentations as well as a 10-week program in various academic disciplines. We led workshops and even wrote a book, titled Learning the Library, about our approach. 
I left reference in 1980 to create a fee-based service within the university library system called the Michigan Information Transfer Source . MITS offered database searching and document delivery for businesses for 34 years. In 1985, I started managing interlibrary loan for the university and was asked to create a campus-wide delivery service (7FAST). This service retrieved/scanned articles and books from the various libraries and delivered them to the offices/inboxes of faculty members. Eventually, we expanded this service to all students. It continues today as the document delivery program. 
I also managed the university's Buhr Remote Shelving Facility for six years, served as the Chief Financial Officer for the library system for five years and served as the Grants Officer for 14 years. After 46 years with the U-M Library, I retired in 2016.
UMSI skills in work
As a UMSI student, I took every reference course I could. This gave me a rich background to use in helping patrons with reference questions. One of the key things I took away from my experience at UMSI is to learn and grow as your career progresses. When I started a small business (MITS) within the university, I had to learn about marketing and budgets on my own. It's critically important to learn about new technologies that can help you meet the changing needs of your customers.
Motivation for pursuing information
Actually, a vocational interest inventory test suggested I would enjoy librarianship. I was uncertain that it would be a good fit for me. After receiving my bachelor's degree, I took a job in reference at the Bloomfield Township Public Library to prove to myself and everyone else that I did not want to be a librarian. Instead, I found that I actually loved reference, I love helping people and I loved learning something new every day. 
Most valuable UMSI experience
Getting to know and share ideas with other students and getting great career advice from the faculty members. The assistant dean looked at my background and told me I'd be a perfect fit for the social sciences reference position and encouraged me to apply. My cataloging professor recommended me for the position. UMSI is an outstanding program and its graduates are proud to be SI Wolverines. 
Advice for students
Find a job that fits what you like to do. When you apply for a position, customize your cover letter so that it focuses on why you are a right fit for that particular job. Make sure to highlight all relevant experiences you've had, including internships or volunteer work. For example, as president of the Ann Arbor Ski Club, I had managed an annual budget of $100,000. That fact was critical for an employer who took a chance on me for a management position even though I didn't have previous management job experience per se. I had developed the necessary skills for the position through my volunteer work. I encourage networking because connecting with others in your field can be so beneficial and can provide really good job leads. I built a network through my work with the Association of College and Research Libraries, a division of the American Library Association, but there are also other good professional associations as well as tools like LinkedIn that can be helpful. 
Learn more about UMSI's Master of Science in Information program and how to apply.