University of Michigan School of Information
Alumni Snapshot: Derek Cooper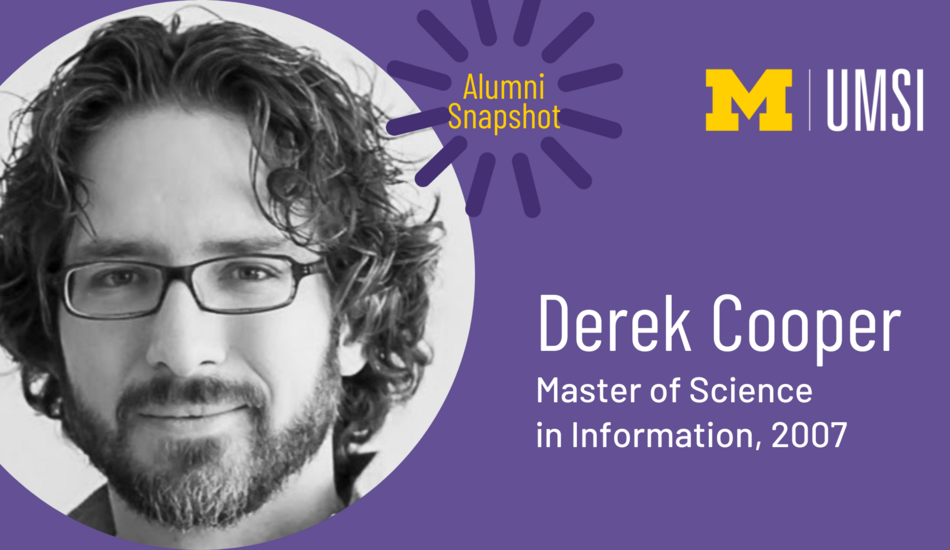 Derek Cooper 
MSI '07 (Information, Economics, Management and Policy)
SVP of Customer Success at HealthMyne Inc. 
I am currently in the health technology field working for a small start-up company called HealthMyne. I lead the customer service team responsible for the technical delivery and training needed to use the solution. We work on maintenance and ongoing support for each of our clients coming from the life sciences or healthcare provider markets. 
Advice for getting into the information field 
The first advice I have is to take the opportunities that are presented at the time. Don't be afraid to take the scariest ones, because they are the ones where you will definitely learn. The way I have always focused on my career is that every job, every role and every day is always about learning. What can I learn in this new capacity? Leaving a company and product line that I had worked with for 10 years was a pretty big leap, but had I not done that, I would not be able to be where I am in HealthyMyne today.
For incoming students, my advice is to network like crazy! Take advantage of the resources you have at UMSI — amazing professors and amazing students. There are great opportunities to learn all around you. At the end of the day all of those opportunities come out of your professional network, and there is no better place to start building it than at UMSI.  
Most valuable UMSI experience
In SI 501: Contextual Inquiry and Consulting Foundations, we worked in project teams to solve a real-life issue for a company, and that experience definitely stuck with me. Companies in Ann Arbor and nearby facilities would bring in their small projects for the course and we had a chance to work with a group of people on those projects. It was a really meaningful experience and helped to apply the lessons we learned in the classroom in a real-life work environment. 
Interest in health 
Coming out of school as an undergrad was an interesting time since that was when the big "dot-com" bubble burst. Prior to that I was looking more toward the financial sector and had difficulty finding something. I eventually ended up at Michigan State University in their radiology department, as they were looking for software developers. I was developing a web application in healthcare and was instantly hooked. I really loved the idea that doing that kind of work would have some kind of positive outcome for someone down the line. 
Motivation for pursuing information
I was really looking to broaden out from my undergraduate degree in computer science. I was a software developer for a number of years and as much as I liked problem solving, I missed the interaction with people. This drew me to customer service and motivated me to look into informatics programs. Something that I liked about the Information, Economics, Management and Policy program at UMSI was the blend of technical and business interaction aspects for applying information. 
Parting thoughts
One of the things I really appreciated about UMSI was the multidisciplinary nature of the MSI program. It is an invaluable experience because in the workforce you won't be stuck with a team that has one focus and similar backgrounds. UMSI really helped me to see the value in those differences and how to work together effectively. The UMSI classroom really exposes you to that environment and way of thinking that does not necessarily happen in other majors. There are also micro-takeaways I have been able to incorporate into my work life. "Usability" is part of my daily vernacular when talking with clients. Even those really foundational courses around the psychology of information, usability and design, and contextual inquiry matter on a daily basis. These are the core classes that have stuck with me throughout my career in the field of information. 
Learn more about UMSI's Master of Science in Information program and how to apply.
Send UMSI an update and share your own Alumni Snapshot with the world.