University of Michigan School of Information
Alumni Snapshot: Diane Hummel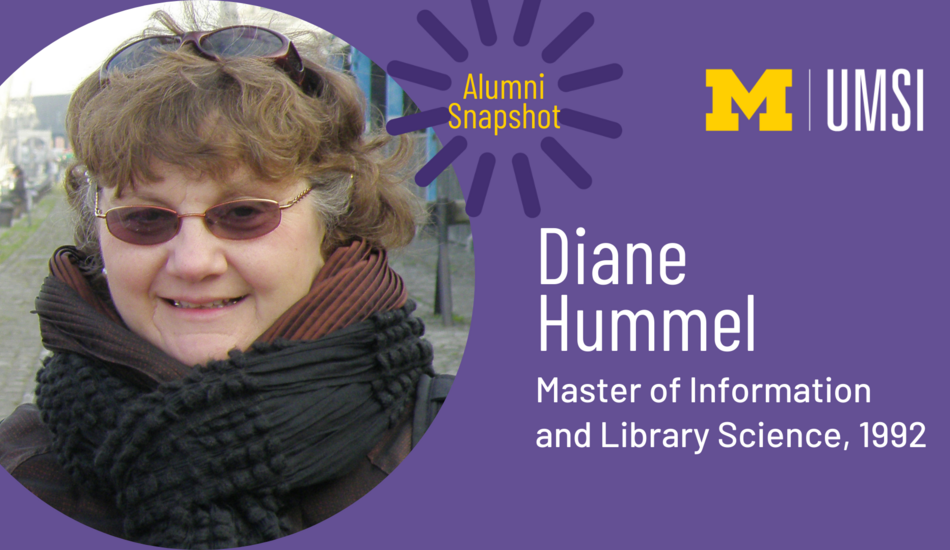 Diane Hummel
MILS '92 (Public and Academic Libraries) 
Former Manager at Spectrum Health
A year and a half ago, I retired. Previously, I was a medical librarian and manager at Spectrum Health for 36 years. I initially worked with a team of eight staff members and applied medical records to a newly informed nursing collection. I looked through main reference texts and professional journals for nursing when all this information was still in print rather than online. There was a four-year gap when I worked at the State of Michigan Employment Security Commission and then went back to Spectrum Health when they were closing down the nursing program. Once I was back, I constantly merged one discipline with another for different collections to create one central library medical collection. In the last 18 years of my career, I stepped away from the frontlines and handled more management responsibilities like budgeting and analysis for medical records.
UMSI skills in work 
The medical reference and management classes really helped me with my position as the medical librarian at Spectrum Health. I was working and came back for my master's in order to have greater knowledge on health and medicine in the field of information. Not only did the UMSI skills benefit the work I had as the manager, but we would also send staff to the UMSI Medline training that was offered to the community. Our staff would always come back from an overnight stay in Ann Arbor with wonderful training and knowledge on the skills needed for this work. I did go back from time to time for copyright seminars in Ann Arbor, and that was always helpful for my work.
Motivation for pursuing information
I started in library sciences and media for my first master's. I was later offered a position at the School of Nursing in the psychomotor skills lab. I got more interested in the library than the psychomotor skills lab because of the searching and literature element. That's why I went back to get my master's in library science at UMSI. I wanted to have a deeper understanding of the management of information and moved away from the media portion at the time. 
Favorite UMSI memory
The last class that I took was media cataloging. In that class, we met every week on Friday from 10 a.m. to 4 p.m., so it was really intense. I always liked highly concentrated work rather than meeting for 1-2 hours several times a week, so that class was a really nice opportunity for my learning. 
Advice for students
Just keep at it! Don't get discouraged, and look in unique places for information service jobs. Look at law practices, medical centers, big businesses and start-up companies. They may not call it "information," but they will have a space for you as long as you share the things you can do after getting this degree. 
— March 3, 2022
Learn more about UMSI's Master of Science in Information program and how to apply.
Send UMSI an update and share your own Alumni Snapshot with the world.