University of Michigan School of Information
Alumni Snapshot: Lou Helen Devine Sanders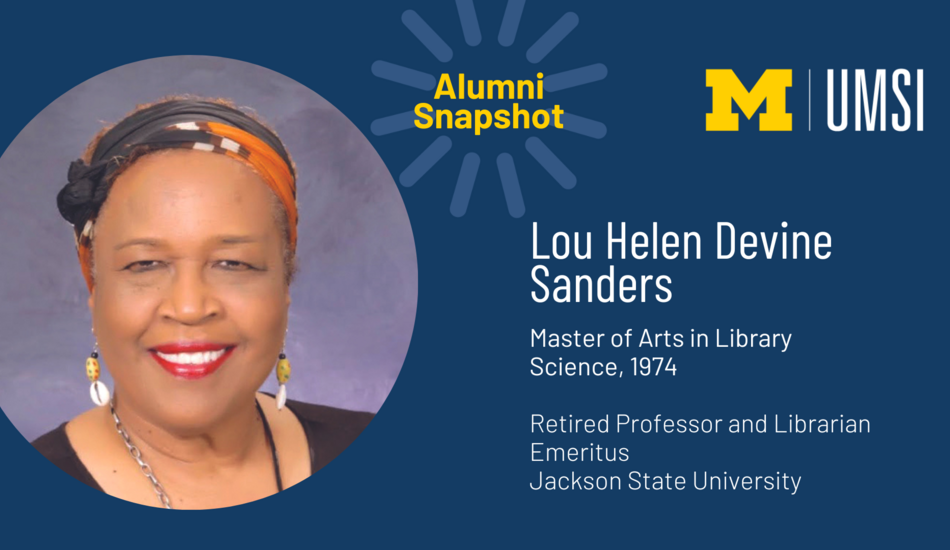 Lou Helen Devine Sanders 
Master of Arts in Library Science '74
Motivation for pursuing information
I grew up in rural Mississippi in a very poor family composed of twelve children, but I have always had a zeal for learning. My school district did not have pre-k or kindergarten, so my mother sent me to school dressed as my older sister to start my education young. However, I didn't always have shoes and I had to help out working on the farm as a sharecropper, so I did not always have the opportunity to attend school uninterrupted. When I wasn't able to attend school, I would stay up with a textbook and teach myself what I thought the class would have been learning at that time.
I went on to study English Literature with a minor in library science at Jackson State University and graduated salutatorian in 1973. Realizing I couldn't become a teacher with an English Literature degree like I had hoped, I decided to continue my education at UMSI to obtain my masters in library science. I was interested in library science even though I grew up in a segregated town where I could not use the public libraries because I wanted to be able to share my love of learning with others and help connect them to information and resources. Even being from rural Mississippi, I knew of Michigan's academic program and it was a top choice school for me. Helping students follow their academic curiosities is what inspired me to enter library science as a profession and it is what drives my student-centered approach. I received my Ph.D. from the University of Pittsburgh in Library and Information Science in 1989. 
Career path
In 1989, I began my career working as the acting Dean of Libraries at Jackson State University, where I have worked a total of forty-seven years. As the Dean, I worked hard to keep the H.T. Sampson Library's facilities and resources modernized and readily available. In the '90s, I drew blueprints for a library renovation that included a new reading room, which was inspired by a U-M library's own reading room that I enjoyed as a student. I worked with architects to render these drawings and make my plan a reality and in 1998, our library won an award in architectural digest for best construction. 
When I first began my administrative career in 1989, the library only had typewriters, but I worked hard to receive grants in order to buy thousands of dollars of technology—from computers to ebooks—in order to modernize the library system.
In 2001, I transitioned to the position as Professor/Librarian Emeritus at Jackson State University and was awarded the outstanding professorship each year. I have also held positions in the Mississippi Library Association, the Southeastern Library Association and the American Library Association. I retired from Jackson State University in 2021 as Professor/Librarian Emeritus after 47 years of service.
UMSI skills at work
I am always leading with DEI in my approach to work. For instance, while redesigning the library at Jackson State University, I had the opportunity to select which architectural firm would construct the library. I insisted the firm should have a diverse workforce employed at every level of the library's construction— from the masons and electricians to the architects. I also made sure a diverse team constructed the furniture for the library. I've realized over time that if one is not intentional about inclusion, oftentimes it is left off the radar, so when I've had the opportunity, I've vocalized the need for diversity. 
Most Valuable UMSI Experience
I still remember all the tremendous professors who really nurtured the students at UMSI. I was nervous moving to the midwest from the south and they really ensured that I felt comfortable here. I still feel a huge affinity for UMSI and my program today because of the connections I made with the staff and other students.
Additionally, I appreciated how UMSI would host consultants at seminars to teach and advise students. This made starting my career after obtaining my degree much easier. UMSI taught me to set my standards for professional conduct high, and I found when I graduated that I had acquired the skills and experiences that allowed me to quickly move up in the field. I would not have had the opportunity to be eligible for tenure if it weren't for the skills I learned at UMSI. 
Favorite UMSI Memory
The diversity and comradery that existed among the students at UMSI are among the greatest memories that I have. My time as a student at the University of Michigan was the first time I was living in a predominantly Caucasian area and I was quite nervous to make the move, but my experience was so enriching. It was novel that I was able to interact and competitively work, not in an adversarial way, with other UMSI students.