University of Michigan School of Information
Alumni Snapshot: Paul Trescott Jackson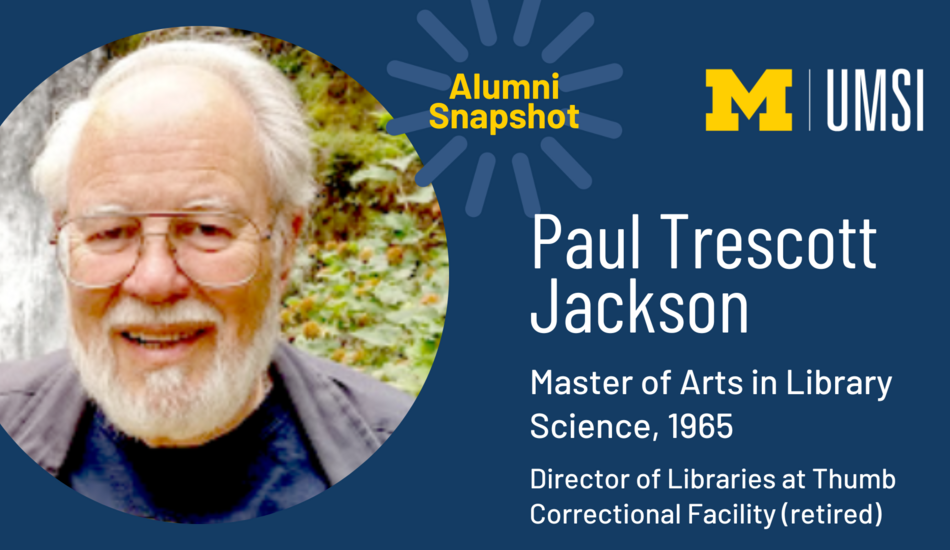 Paul Trescott Jackson 
AMLS '65 | Customized Concentration of Music and Library Information
Retired special librarian of academic, public, corporate, church and prison libraries
My first job was at Lincoln Center for the Performing Arts, helping establish part of the music research library. I also developed the information systems library for a music publishing group in New York and established the Performing Arts Library at Oakland University. From there, I helped Motown Records develop an information system they needed for their museum and was able to work with Esther Gordy Edwards, Berry Gordy's sister.
After starting several businesses in Illinois, I returned to Michigan in 1986 and was hired to establish a library at the new Thumb Correctional Facility. I think I was three years into the job when we were still developing the law and reading libraries, and we had established two courses on legal research and business development. The accreditation committee had come around and announced that the library program was second to none. It became a model for some of the other prison library programs in Michigan. 
Receiving news that my son's wife was dying, I went out to Seattle and helped him. I found out I could retire and have  been retired for over 20 years now. During retirement in the northwest, I consulted with four special libraries, and a personnel service firm.
In 2003, I became the editor for a small writer's organization called the Plateau Area Writers Association and that became quite large over the years. It's now in its 22nd year and I'm still an editor for their quarterly and annual anthology, Contrasts. I am also writing for the Public Libraries Online and have contributed about 20 articles. 
Started with a bibliography
Back then there weren't any paths. You would just graduate with an AMLS degree after completing 32 hours of courses. I had taken a music bibliography course when I was in Detroit and then later, I was working with the bibliography course with professor Anthony Kruzas, the editor of Gale Research directories, and for that we could choose our bibliography project. I chose the field of recorded sound. I kept doing that research for about 20 years, but I never got to publish it, but that was the time before computers existed and so things were not done so easily. It was not until 1982 when things really got going with publishing, and I became involved in a software business, developing the first cataloging system for disk operating systems. 
During the time I was developing a bibliography for recorded sound, I found out about all these archives of recorded sounds in the midwest. When I wrote letters to them, I realized none of them knew the others existed. I wrote to the Ford Museum and asked them what it would take to get these people together and Frank Davis, the curator at the time said, "First, we need to have a meeting." After several meetings with Davis and Kurtz Myers, Chief of Music at the Detroit Public Library, we decided we needed to go national to do this right. I had a list of archivists I knew from around the country and we invited them to a meeting; about 22 archives were represented at this group gathering.
In 1966, we were invited to go to Syracuse University and there were 40 archivists and collectors from all over the country and world who came together for a meeting of archivists and collectors. Together we founded the Association for Recorded Sound Collections and now they are in their 56th year and meeting with the Music Library Association. 
"Falling into library science"
When I got out of the Army, I wasn't sure what I wanted to do. I was with the Army band and played professionally as a timpanist for the Anchorage Symphony. I also liked books so I was working at one of the bookstores in Anchorage. I was also doing some writing for short pieces in a music magazine. After working as a counselor during the charter year of the Interlochen Arts Academy, I was supposed to go to Ohio State University for a masters in musicology. However, at the Royal Ballet of England performance in Michigan, I met a man who had connections with people I knew at Interlochen, so he invited me to a late supper to talk more. Our conversation shifted to jobs in Michigan and I mentioned I had already reached out to the Detroit Public Library about getting a job and they had told me there were none. He told me that was not quite true, and I quickly found he was the head of the Music Department at the Detroit Public Library and they did have a job as a pre-professional. He said I just had to get a degree at the library school, and that's how I kind of "fell into" the program. I was initially hoping to do research and I just got into library science because I was looking for a job.
Advice for Students
For new students, the best thing might be to ask a question. I remember my philosophy class in undergrad where my professor said that most things start with a question and that's what I did. "Where can I find a job? How can we get these archivists together?" Very simple. 
For current students as well, if you have an interest, build or look for a bibliography! Find where the associations and organizations are, who has published what, and just look for this information. Then, join and inquire to learn more. I believe that's what put me on top throughout my career.
For more lessons I have learned through my many career trajectories, you can read the article on my presentation at the Solo Division of Special Library Association National Conference from 2008.