University of Michigan School of Information
Get Involved with UMSI's Theme Year: Water Access and Conservation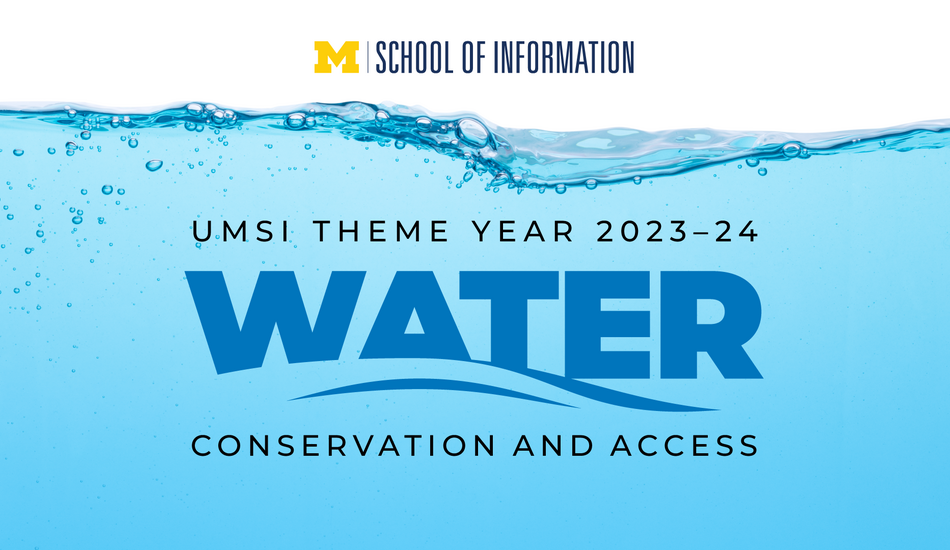 Annually, the University of Michigan School of Information (UMSI) identifies a social concern to serve as the focal point for an array of associated learning opportunities to provide a common educational experience for our students through a theme year. 
This year's inaugural theme is water access and conservation. 
Why water access and conservation?
At UMSI, we aspire to heighten students' awareness of societal challenges associated with water access and conservation as a key part of our methodological curriculum. UMSI is focusing on current and forthcoming challenges associated with this issue, as they are urgent, complicated and affect communities all over the world. As a proud member of the Great Lakes community, UMSI is excited to facilitate meaningful learning opportunities around water access and conservation, and we invite your partnership in this initiative. Through shared awareness and action, we can foster more informed, socially-conscious students. 
Why get involved? 
We are seeking collaboration opportunities with civic and corporate organizations to increase our students' awareness of this important social issue and prepare them to address this and other similar challenges in their future professional endeavors. 
You should get involved with UMSI's 2023-2024 theme year if your organization: 
Engages in advocacy, conservation, sanitation or provision associated with  water

Could benefit from innovative student perspectives related to organizational challenges 

Seeks to make a positive impact on the next generation of informational leaders by sharing relevant expertise and experiences
How to get involved
We are seeking organizations to get involved in one of the following ways: 
Supporting the theme year as a subject matter expert:

If you have expertise relating to water access and conservation, email

[email protected]

to discuss opportunities for involvement in these programmatic efforts: 
Speaking with students individually, within a panel, or as part of an interview to inform them about local and global water-related issues

Providing access to new data sets or contextualizing public data sets for students to analyze

Connecting UMSI with users/constituents associated with water issues
Host a water-related project for a client-based course or program

: If you have a challenge pertaining to water that could benefit from student input,

submit a project idea

for one of

UMSI's client-based courses or programs

. In exchange for your time in communicating with a student team, you will receive capacity-building deliverables at

no cost

to your organization. UMSI students who are matched with your project through a client-based course or program can support your organization in any of the following ways: 
Providing user experience (UX) and design recommendations for websites, apps, and software

Organizing, manipulating, and analyzing data

Performing digital curation

Establishing, assessing, preserving and maintaining library processes or archival collections

Engaging with communities to inform questions affecting cultural institutions, archives and libraries.
Questions about UMSI's water theme year? Email us at [email protected] for more information.