University of Michigan School of Information
Civic engagement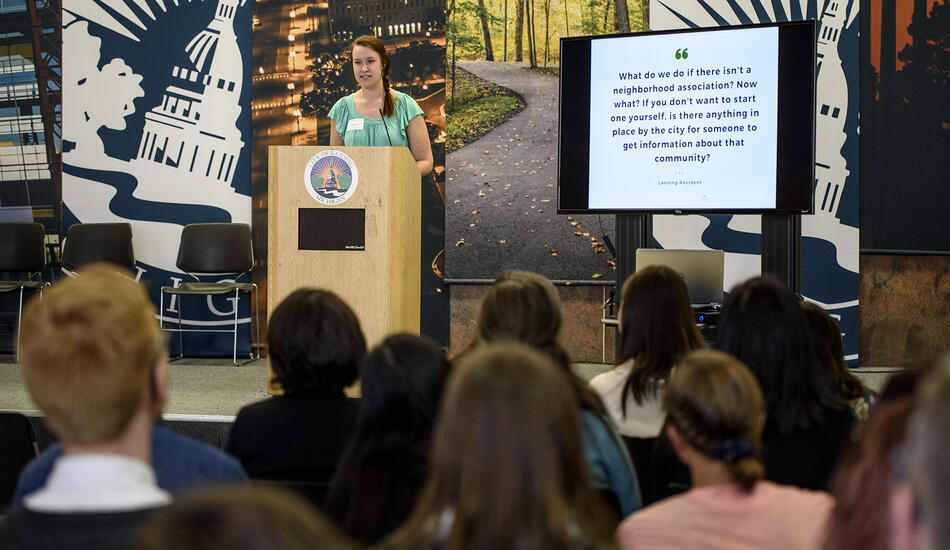 Now more than ever before, citizenship is dependent on access to, and participation in, the creation of information. Information tools help citizens engage with their community in constructive and effective ways. Information tools also help local government to better enable and support citizen interaction.
In cities across Michigan, UMSI students have designed information tools to address a wide variety of community challenges. Through a variety of civic-oriented programs, UMSI students are partnered with Michigan communities to create information tools for twenty-first century citizens.
SI 538: Citizen Interaction Design 
Students work with partners in Michigan communities to deliver information tools and services that foster an engaged citizenry. Students work in teams, travel to the partner community and work with community members on real community issues.
When: Fall semester
Eligibility: All U-M undergraduate and graduate students
Past projects:
"We learned a lot about how to create a sustainable service with minimal barrier to entry. We learned about how to create a campaign to promote this service."
— Brandon Patterson (MSI '17)
SI 350: UX Field Research in the Public Sector
An intensive three-week studio in which students work with governmental departments and nonprofit agencies to conduct user research around an information need determined by their partner organization. Students work in teams to collect direct user data using multiple UX research methods.
When: Three weeks in May
Eligibility: Undergraduates, with a preference for UMSI students and admits
"I took SI 350 this past spring, a three-week field research course in user experience design. There were no lectures, no problem sets, only a team and a challenge. For the first time, I found myself using the tools I was taught and was surprised by how much learning there was still to do about them. All the courses and disciplines that felt so discrete were intersecting in a way that felt like a discipline of its own. SI 350 was a pivotal experience in my education."
Verity Sturm, BSI '20
Citizen User Testing (CUT Groups)
In partnership with city staff, small teams of 4-6 students work over three weeks to develop, proctor and report on user tests of government information tools with citizens of various local Michigan municipalities.
When: Offered twice each semester
Eligibility: UMSI students 
Learn more and apply in M-Compass: Information: Citizen User Testing (CUTgroup)
"I want[ed] to directly interact with people and communities, and that's what CUTgroup is all about." 
— Matt Smallish, MSI '20
Citizen Interaction Design summer fellows 
The CID Summer Fellowship is a nine-week experience supported by mentors from the information/tech industry, experts in civic tech and a cohort of other fellows working in Michigan communities. CID summer fellows gain valuable experience working with public sector leaders to address pressing community issues. 
When: Nine weeks over May and June
Eligibility: UMSI graduate students 
Learn more and apply on iTrack.