University of Michigan School of Information
Design and innovation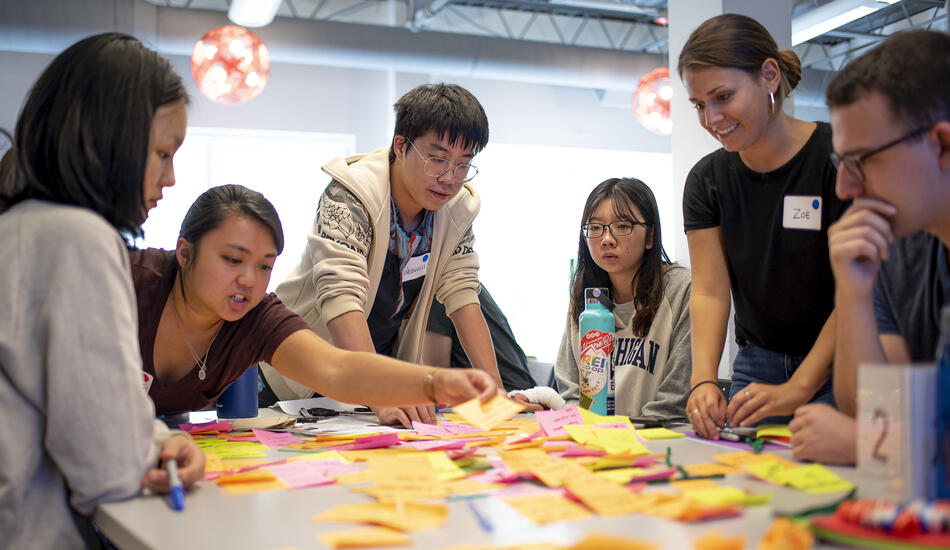 Whether you are pursuing a career in librarianship, digital preservation, data science or user experience design, the ability to think critically about organizational problems, communicate clearly, and scope and deliver outcomes is integral to career success.
UMSI offers students the opportunity to partake in consulting projects focused on data, design, librarianship and archival work. These consulting programs facilitate a suite of information and design resources, which engage UMSI students with real-world clients. Participating students act as consultants and co-designers to solve practical information challenges in semi-structured, fast-paced environments. Students, while working with clients from an array of private and public sector industry areas, apply user experience design, design thinking, and data analytics principles and methods to scope projects, manage deliverables and provide impactful information outcomes to clients. 
Consulting allows students to apply knowledge and skills outside of the classroom in ambiguous project environments, helping them to build novel portfolio pieces and be better prepared for future work environments.
UX Lab
UX Lab is led by UMSI graduate students and provides user experience design methods and consulting services to U-M student entrepreneurs and local startup agencies. In this program, UMSI graduate students apply their knowledge and expertise of user-centered design to real-world business, innovation and entrepreneurship contexts, under the mentorship of UX professionals. Note that credit is not offered as part of this program.
UX Lab includes:
User experience research and design workshops: Interactive workshops for groups on topics such as the basics of user-centered design as well as more specialized topics such as personas and scenarios, journey mapping, prototyping and user-testing. All workshops will be developed and led by experienced UMSI students with oversight by ELO staff, professional mentors and UMSI faculty.

Drop-in/rapid consulting for Innovate Blue, Zell Lurie Institute (ZLI) student teams and local startups: Highly-skilled UMSI graduate students will lead direct consulting services wherein U-M student entrepreneurs and local startups drop in or book singular or recurring one-on-one appointments to discuss user experience or interaction design components of their ventures.
When: Fall and winter semesters
Design Clinic
Design Clinic is a program that seeks innovative solutions to information challenges. Interdisciplinary teams of four to six students, mentored by professionals, collaborate and innovate on fast-paced, self-driven, semester-long projects for real-world clients. Students gain experience in project management, leadership, decision-making, user-centered design, digital preservation, information management, design thinking, client relations and consultancy, data analysis, and teamwork. Note that credit is not offered as part of this program.
Clients include local startups, U-M student entrepreneurs, industry partners and nonprofits. Examples of previous clients include NBC Universal, the American Library Association, Comerica Bank, the Detroit Zoo, Connect 123, Canopy, Arbor Metrix and the Ann Arbor District Library.
In Design Clinic students will:
Build a portfolio through client-driven projects
Develop professional and leadership skills to be effective, reflective and inclusive colleagues
Practice and apply skills and tools learned through coursework at the School of Information
Connect with mentors who have professional expertise in design, data, library, social media and archival skills
When: Fall and winter semesters
Eligibility: All U-M undergraduate and graduate students with an interest and skills in user-centered design, data analysis, library and archives work, and consulting
Learn more and apply in M-Compass: Information: Design Clinic
"My team and I spent four months or so working with a local health informatics company to redesign their surgery outcomes calculator. My Design Clinic project was different in many ways compared to other projects that I've worked on. For starters, other projects that I worked on at school had strict schedules for milestones and assignments, but for Design Clinic, we had to plan and track our own progress. It was a really valuable learning experience for me."
Novia Wong, MSI '19
Bariatric Surgery Decision Aid Project
Design Jams
A design jam is a two- to three-hour event at which graduate students from the School of Information (including health informatics) studying human computer interaction (HCI) respond to real-world, user-centered design problems directly for sponsoring companies. Previous design jams have been sponsored by organizations ranging from Google to the U-M Health System.
Clients bring a design problem, a specific issue that their company or organization is trying to solve. It can be related to interaction design, the user interface or user behavior. 
Design jams are coordinated by the Student Organization for Computer Human Interaction (SOCHI) with support from the UMSI Career Development Office. 
Participating in a design jam allows you to 
•    Get exposure of real-world design problems
•    Develop design skills
•    Learn from peers through collaboration/team experience
•    Network with employers
•    Showcase skills and competencies to employers
•    Impact an organization by solving a design problem
Previous Design Jam Problems
•    Website redesign brainstorming
•    Design interactive interface
•    Design a mobile interface for a current website
•    Add new functions to a current interface
•    Create tracking tools for user behavior
At the design jam, clients meet students, make an introduction, present the problem, provide any additional information that might inspire solutions, participate in brainstorming, work with groups who are preparing the deliverables and see presentations made by those groups that offer options to resolve their issue.
Previous design jam problems include:
•    Website redesign brainstorming
•    Designing an interactive interface
•    Designing a mobile interface for a current website
•    Adding new functions to a current interface
•    Creating tracking tools for user behavior
When: Fall and winter semesters
For more information on UMSI design jams, please contact sochi-officers@umich.edu.