University of Michigan School of Information
Career outcomes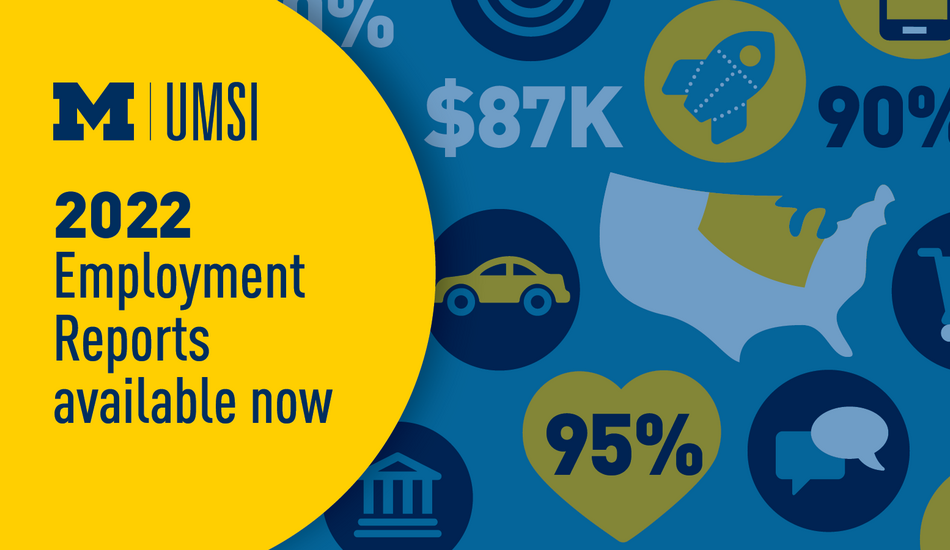 University of Michigan School of Information graduates obtain innovative, diverse professional jobs in a wide range of work settings and positions, from innovative tech startups and global healthcare organizations to nonprofits, libraries, Fortune 100 companies and some of the leading tech companies in the world. Positions range from entry level to senior level and management positions.
UMSI graduates are highly sought by employers, as they bring some of the most in-demand job skills to their workplaces. According to LinkedIn, employers' most desirable job skills in today's job market include artificial intelligence, UX design, data science, business analysis, natural language processing, scientific computing, digital marketing and mobile app development. 
UMSI students are recruited by employers across industries from nonprofits and public and academic libraries to government agencies, consulting, tech,  finance and more. Some of the most high profile companies in the world, such as Google, IBM, Amazon, Deloitte, Microsoft, Ford, Accenture, JP Morgan, Salesforce, Airbnb and Kaiser Permanente, actively recruit UMSI students for internships and jobs. 
Career outcomes
Detailed employment results for our BSI, MSI, MHI and MADS programs are in the reports available here:
Bachelor of Science in Information
94% working in their field of choice
View the 2022 BSI Employment Report
---
Master of Science in Information
93% working in their field of choice 
View the 2022 MSI Employment Report
---
Master of Health Informatics
97% working in their field of choice 
View the 2022 MHI Employment Report
---
Master of Applied Data Science