University of Michigan School of Information
Faces of UMSI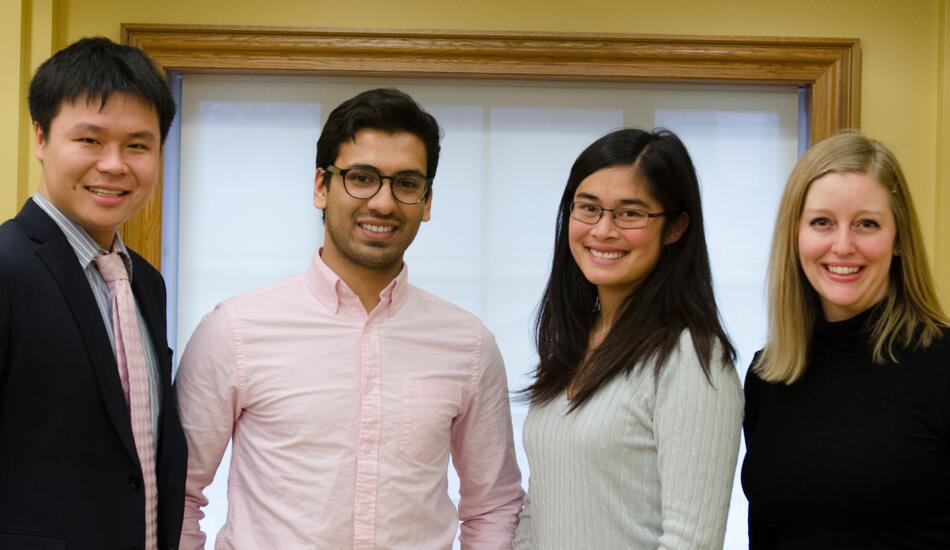 Meet some of the current students and recent alumni who typify the wide range of interests and backgrounds at the School of Information.
Current students
Abpreet Kaur is inspiring women and girls as a leader in learning and education tech.
Emma Shpiz is traveling the world, amplifying student voices and advocating for equity in sports. 
Fernando Carretero is empowering his fellow Latinx students by building community and professional networking opportunities among his engineering peers.
Shaelyn Albrecht is using information and UX design to ensure every voter's voice is heard.
Brendan Palkowski is a transfer student whose computer science background started him on the path to his current, narrower and more passionate focus: data analysis.
Somya Bhagwagar is using storytelling to leave filter bubbles behind.
Verity Sturm combined her love of words and figures into a double major in English and information. 
---
Allison Thorsen is bringing new life to pieces of the ancient world with her new exhibit, Literature in Fragments: Lost Greek Works at Michigan.
Hope Tambala is telling stories through data in order to change health care in the Dominican Republic.
Jaklyn Nunga, a Peace Corps volunteer, has traveled from LA to UMSI to Ecuador in order to learn how to truly work with and for a community.
JoAnna Lincoln is a first responder when it comes to heavily damaged archival materials -- fire, smoke, water, mold, mildew, pests.
Joe Soonthornsawad is utilizing his time at UMSI to study how people understand tracking and data mining on social platforms, and designing tools that encourage people to take action to protect their privacy.
Kangning Chen is embarking on grad school and motherhood while working at the intersection of policy research and data analytics.
Maggie Davidson is seeking ways to break down barriers in information processes in order to make it easier for people to get the help they need.
Matthew Cloutier is teaching students about music, marching and data-oriented programming as a graduate student instructor -- while pursuing his own studies in human computer interaction.
Matt Garvin is working from his home to turn unforeseen hurdles of 2020 into learning opportunities. 
Novia Wong is implementing UX solutions in special education classrooms in order to help children thrive. 
Regen Le Roy is using library science and technology to make music education more accessible.
Rohit Mogalayapalli is harnessing the power of analytics to improve Michigan Athletics as the founder of the Michigan Sports Analytics Society. 
Salma Siddiqui is combining data science with organizational development to become a recruiter with employees' best interests at heart. 
---
Emily Trumpower is learning how to use data analytics to improve NICU care.
Faith Reynolds is a Big Ten Distinguished Scholar on track to an MHI.
---
Ayansola Akanmu envisions using his education to work on real-life applications of machine learning and computer vision.
Carlo Tak is a data scientist from South Africa who is boundlessly curious about his own field.
Jenna Mekled is leaning into a career shift from auditor to data analyst in business and accounting.
Stacey Beck is a new mom and a licensed physical therapist interested in how data can generate solutions to real-world health problems.
Brad Thompson is looking forward to gaining a nuanced understanding of technological evolutions in a field he's worked in for decades. 
Anthony Giove is building and adding to his data science toolkit as a professional software developer while pursuing a passion in sports analytics at the same time.
Daeryong Seo is a professional data scientist driven by a sense of service and responsibility in his work with dangerous computational algorithms and social issues.
Ermias Bizuwork is a self-starter looking for a challenge as he continues his data science education.
Kyle Balog has chosen to Go Blue for a second time as he supplements a bachelor's in industrial and operations engineering with data science studies.
Rachell Calhoun wants to develop software that will help healthcare providers practice more inclusive data science.
Ani Madurkar is a data analyst who found a passion for data science while working in a neuroscience research lab.
Nesma Silman has found that data science can play an important role in customer satisfaction. 
Manel Mahroug is a full-time mom and biologist by training who wants to use machine learning to improve patient care.
---
Allan Martell is working at the intersection of technology and human rights to share collective memory in post-conflict societies.
Cindy Lin is taking an interdisciplinary, international and intergenerational perspective while bringing science and biohacking to makerspaces.
Megh Marathe researches how people with epilepsy come together in online communities to construct notions of time.
Allison Tyler wants to make it easier for researchers to access information repositories, revolutionizing the way researchers reuse data.
Chanda Phelan is working to close socioeconomic gaps by studying how technological advancement is linked to career success. 
Chiao-Yin "Joey" Hsiao is exploring how social apps can help immigrants transition and meet people in the US. 
Danaja Maldeniya is scouring Twitter for sentiments from survivors of natural disasters.
Edward L. Platt is studying how Wikipedians collaborate and improve articles.
Hariharan Subramonyam is tapping into an artistic vision while pursuing research in data visualization. 
Harmanpreet Kaur wants to make human-AI teams more effective.
Heeryung Choi is striving toward equity in Massive Open Online Courses (MOOCs). 
Jeremy York is interested in how people ⁠make decisions about what to collect and preserve and how that informs our self- and worldview.
Jiaqi Ma is using machine learning models for unstructured data, specifically graphs and text data.
Lindsay Blackwell is looking at how parents and families use social media and what makes online communities supportive or abusive. 
Linfeng Li wants to understand how individuals make decisions under the influence of the fundamental elements of modern society. 
Mohamed Abbadi is researching prejudice against Muslim and Middle Eastern people in domestic and international settings, looking for ways to reduce its incidence. 
Pei-Yao Hung is using his human computer interaction education to make it easier for people to connect and learn from each other. 
Penny Trieu is investigating who people really are online — and whether it will influence how they actually see themselves.
Rasha Alahmad is focusing on IT theory to learn about how individuals identify themselves with technology at work. 
Shiqing "Licia" He is blending her passions for art and math as she learns to turn data into stunning graphic visualizations. 
Shiyan Yan is evaluating crowdsourced citizen science data. 
Shriti Raj is devising ways to improve the design of informatics tools to help people manage chronic health conditions. 
SungJin Nam believes in using data-driven methods to better understand how people interact with digital devices. 
Teng Ye focuses on virtual collaboration, the sharing economy and crowdsourcing using both experimental approaches and machine learning methods. 
Tsuyoshi Kano is employing information and communication technology (ICT) to positively impact economic growth in developing countries. 
Yan Chen, the software developer behind Codeon, is working at the intersection of human computer interaction, programming collaboration and computing education. 
Yingzhi Liang is maximizing social welfare through mechanism design. 
Zhewei Song conducts research in behavioral economics, a "young discipline" whose insights into information, psychology and sociology captured his interest as an undergraduate.