University of Michigan School of Information
Business, Innovation & Tech Mixer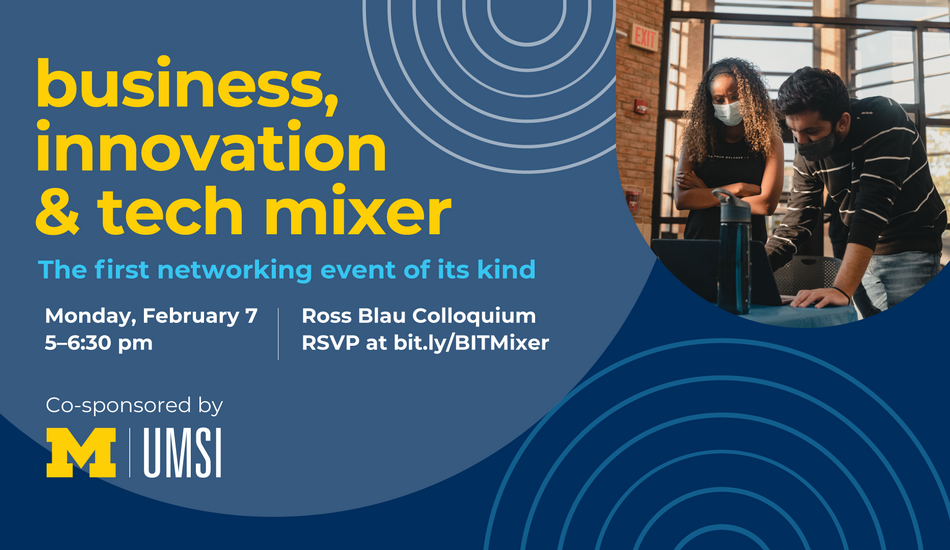 02/07/2022
5:00 p.m. - 6:30 p.m.
Ross Blau Colloquium
Students from all disciplines are welcome and encouraged to attend the Business, Innovation & Tech Mixer at Ross Blau Colloquium, located on the fifth floor of Blau Hall, 700 E. University Ave. 
It takes more than one person to create a business. 
It takes a team of developers, designers and founders to tackle an idea. 
The Business, Innovation & Tech Mixer is the first networking event of its kind for tech-oriented students interested in collaborating with engineering, information and business students to make connections, join a team or venture, and get inspired to innovate.
Come learn the value of diverse teams from a panel of professional innovators and network with panelists and fellow students. Panelists include Phillip Tularak, senior user experience manager at Thomson Reuters, and Dan Rhodes, co-founder and CEO at Strata Oncology.
This event will be in person. Attendees must adhere to U-M COVID-19 protocols.
RSVP at bit.ly/BITMixer.