University of Michigan School of Information
Social, Behavioral and Experimental Economics Seminar: Ricardo Perez-Truglia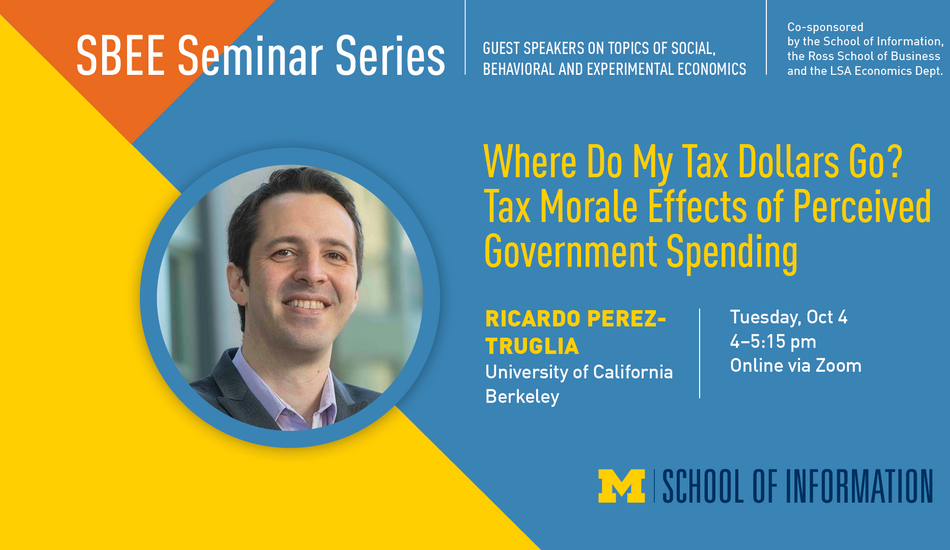 10/04/2022
4:00 p.m. - 5:15 p.m.
Online
Where Do My Tax Dollars Go? Tax Morale Effects of Perceived Government Spending
Subscribe to the SBEE mailing list to receive Zoom invitations and login information along with venue info for hybrid seminars.
Abstract:
Do perceptions about how the government spends tax dollars affect the willingness to pay taxes? We designed a field experiment to test this hypothesis in a natural, high-stakes context and via revealed preferences. We measure perceptions about the share of property tax revenues that fund public schools and the share of property taxes that are redistributed to disadvantaged districts. We find that even though information on where tax dollars go is publicly available and easily accessible, taxpayers still have significant misperceptions. We use an information-provision experiment to induce exogenous shocks to these perceptions. Using administrative data on tax appeals, we measure the causal effect of perceived government spending on the willingness to pay taxes. We find that some perceptions about government spending have a significant effect on the probability of filing a tax appeal and in a manner that is consistent with the classical theory of benefit-based taxation. We discuss implications for researchers and policy makers.
https://www.ocf.berkeley.edu/~pereztruglia/assets/tax_dollars.pdf
Speaker bio:
Ricardo Perez-Truglia is an associate professor at the Haas School of Business. His research lies at the intersection of behavioral economics, political economy and public economics. One central theme in his research is how firms and individuals acquire and process information. He intends his research to inform firms and policy makers in the developed and developing world, leading to practical applications. Perez-Truglia's research has been published in premier academic journals and has been featured in media outlets such as the New York Times, Wall Street Journal, The Economist and National Public Radio. In 2020, he was named a Sloan Research Fellow, an award that recognizes outstanding early-career faculty who have the potential to revolutionize their fields of study. Perez-Truglia teaches microeconomics for MBAs. In 2022, he was awarded the Earl F. Cheit Award for Excellence in MBA Teaching. Perez-Truglia received his PhD in economics at Harvard University in 2014. He grew up in the Ciudadela neighborhood near Buenos Aires. He and his wife Marina have three children: Alma, Lucas and Nicolas.