University of Michigan School of Information
Allen Flynn appointed director of Health Informatics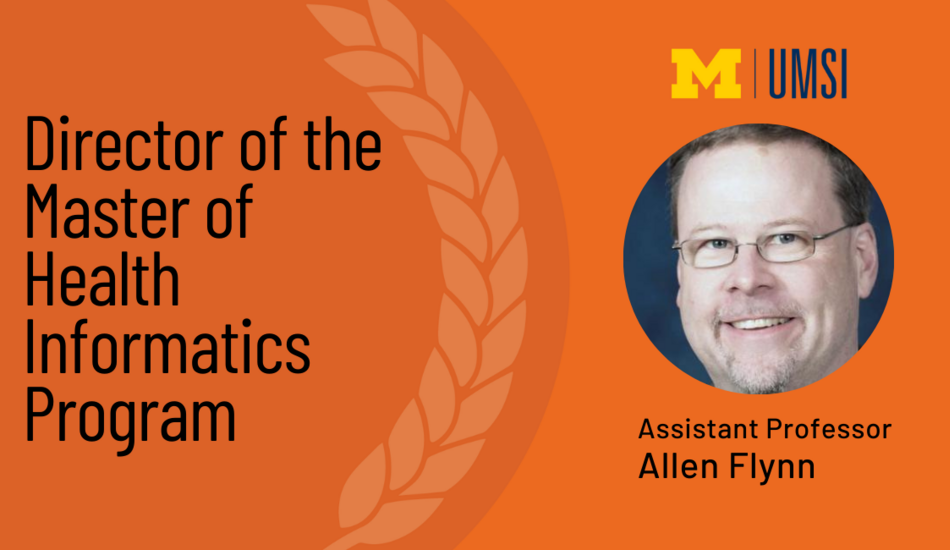 Monday, 10/25/2021
Allen Flynn, PhD, PharmD has been appointed director of the Master of Health Informatics (MHI) degree program at the University of Michigan. Professor Flynn is an assistant professor in the Department of Learning Health Sciences at the University of Michigan Medical School.
"Allen is a great choice for this role because he has a foot in both the researcher as well as the practitioner spaces," said Beth Yakel, C. Olivia Frost Collegiate Professor of Information and senior associate dean for academic affairs at UMSI. "His research covers multiple areas in the health informatics domain, including medication-related clinical decision support, theories of advice, and the management of health IT."
The Master of Health Informatics degree is a two-year multidisciplinary program that prepares professionals to work at the intersection of patient healthcare, information technology and data analytics. It is a collaborative program governed by the School of Information (UMSI), the School of Public Health and the Medical School.
Flynn, who earned his PhD at UMSI, has extensive experience with knowledge infrastructure, learning health systems, electronic health records, computerized provider order entry and e-prescribing, pharmacy and medication-use systems. A recognized expert in his field, he regularly presents at industry events and has authored many publications in the domain of health informatics. He is a member of the Autonomous Pharmacy Board, a frequent contributor to professional health informatics groups and the former chair of both the HIMSS Pharmacy Informatics Task Force and ASHP Section of Pharmacy Informatics and Technology.
"With this background I anticipate that he will strengthen the focus on health IT and enrich ties to the health informatics community in Michigan and beyond to open up more internship and job opportunities for MHI students," said Yakel.
Yakel said that though Flynn will assume the director role on January 1, she will include him in any major MHI decisions prior to that time and will meet with him to ensure a smooth hand-off in program leadership.
"I am thrilled and honored to become the new MHI program director," said Flynn. "As a long-time instructor in the program, I appreciate how the MHI program brings talented students into biomedical informatics and health IT at this critical time when making better use of data, information, and knowledge has extraordinary potential to improve human health and transform health systems. For these reasons, I could not be more excited to have this opportunity to help lead the program."
Michigan's consumer-health oriented MHI program, one of the first of its kind in the United States, has been highly successful in preparing students for careers in healthcare, consulting, technology and beyond. In UMSI's 2021 Employment Report, 97% of MHI graduates reported that they were working in their field of choice or continuing their education. Graduates from the program also report very high levels of job satisfaction.
Topics
People featured in this story
Senior Associate Dean for Academic Affairs and C. Olivia Frost Collegiate Professor of Information, School of Information