University of Michigan School of Information
Bui: The challenges of building trust in democracy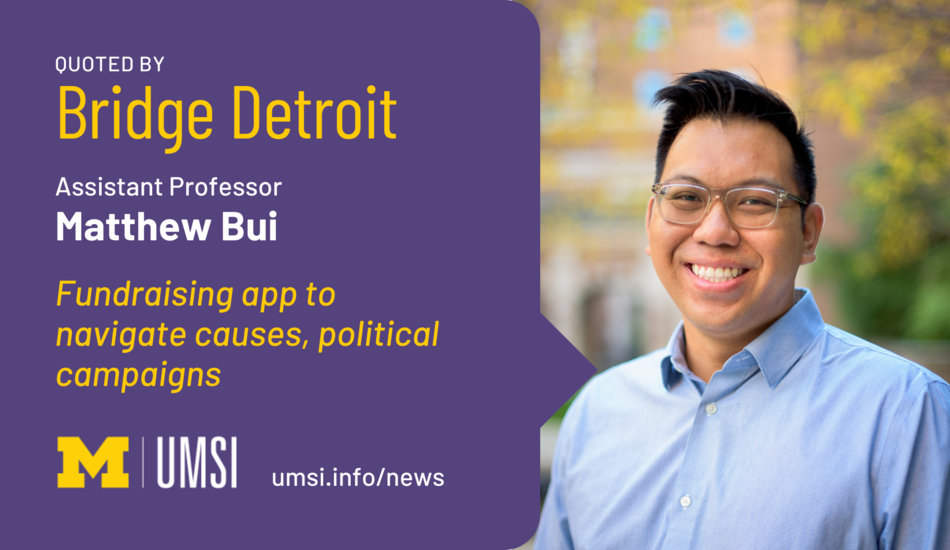 Thursday, 10/13/2022
Matthew Bui, an assistant professor at the University of Michigan School of Information, was interviewed by Bridge Detroit about EvenScore, a new app that's changing the way political candidates raise money. 
Bui, an expert on race, technology and data justice, talked about the challenges of building trust in democracy through technology. He says EvenScore is a creative way to address the need, but shared the challenge of using technology to build trust in democracy.
With crowdsourcing apps like EvenScore "it's a 'majority wins all' strategy or 'the most engaging content wins,'" he wrote in an email. Bui and other information science technology experts said there's a tightrope that those doing data-driven work must walk, to avoid causing harm.
Related
Read the full article "Made in Detroit: Fundraising app to navigate causes, political campaigns" at Bridge Detroit. 

Learn more about Bui's research on race and technology here.
People featured in this story
Assistant Professor of Information, School of Information