University of Michigan School of Information
Ceren Budak earns prestigious NSF CAREER award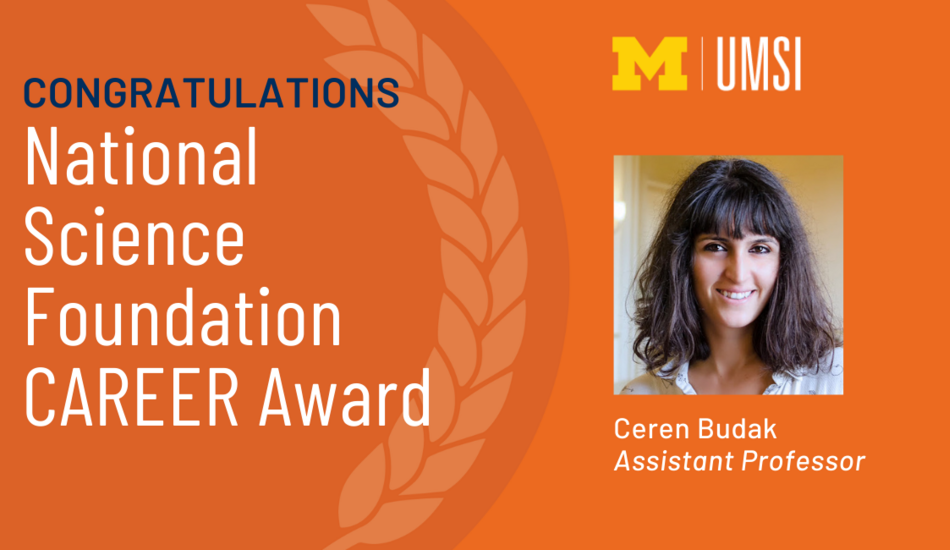 Monday, 04/26/2021
University of Michigan School of Information assistant professor Ceren Budak has received a prestigious grant from the National Science Foundation, the NSF CAREER award. Budak will receive $549,999 over five years to fund her winning research proposal "Large-Scale Examination of Problematic Online Behaviors and Their Regulators." 
This project will examine the role community norms, platform architectures, and markets can and do play in regulating disinformation and cross-partisan animosity online.
Combining the strengths of political communication and socioeconomic theories with the methodological rigor of computational and experimental approaches, Budak's research will identify which strategies and regulators are most effective for combating disinformation and cross-partisan animosity online; how their strengths vary across behaviors and social media platforms; and how these regulators interact, at times undermining or supporting each other.
"Disinformation and cross-partisan animosity are two big (and related) challenges for our societies and democracies," says Budak. "I am excited to receive this award because it will allow me to identify and evaluate strategies that address these important problems." 
The National Science Foundation CAREER awards are given in support of early-career faculty who have the potential to serve as academic role models in research and education and to lead advances in the mission of their department or organization. Activities pursued by early-career faculty should build a firm foundation for a lifetime of leadership in integrating education and research.
- Jessica Webster, UMSI News
People featured in this story
Assistant Professor of Information, School of Information and Assistant Professor of Electrical Engineering and Computer Science, College of Engineering