University of Michigan School of Information
Hemphill: No surprise heated rhetoric linked to hotter temps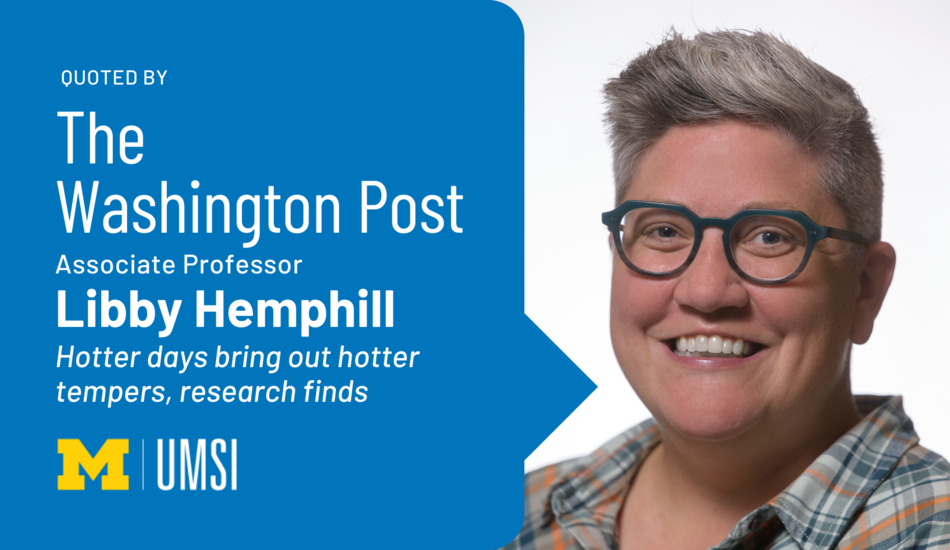 Wednesday, 10/19/2022
University of Michigan School of Information associate professor Libby Hemphill spoke to the Washington Post about two recent studies that show a correlation between rising temperatures and aggressive behavior on social media. This correlation has researchers concerned that there will continue to be an increase in bad online behavior as climate change drives temps ever higher. 
Hemphill, an expert on hate speech and social media, told the Washington Post that there is often an increase in online aggression when people feel threatened. 
"It makes sense to me that climate threat would have the same impact or a similar impact to all these other types of threats that stress people out and make them lash out."
RELATED
Read "Hotter days bring out hotter tempers, research finds" on the Washington Post website. (Subscription may be required)
Learn more about UMSI associate professor Libby Hemphill. 
People featured in this story
Associate Professor of Information, School of Information, Research Associate Professor, Inter-University Consortium for Political and Social Research, Institute for Social Research and Associate Professor of the Digital Studies Institute, College of Literature, Science, and the Arts