University of Michigan School of Information
Hemphill: 'There aren't enough social consequences for being hateful'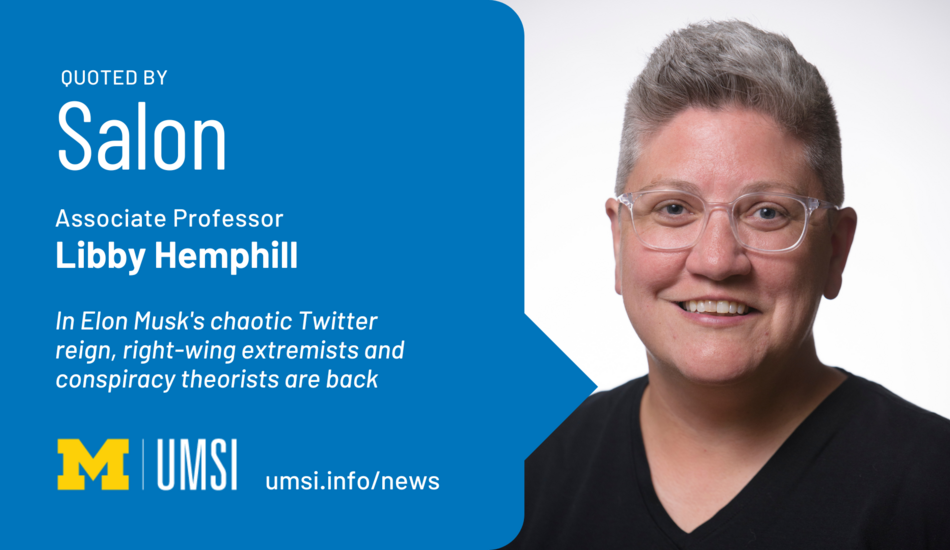 Thursday, 12/08/2022
Elon Musk's Twitter acquisition has been nothing short of a disaster. 
Shortly after Musk's purchase of the social media platform, the site was overwhelmed with impersonations, hate speech and misinformation. 
An article by Salon features University of Michigan School of Information associate professor Libby Hemphill, an expert on hate speech and social media. 
The piece discusses the consequences of Musk's changes to Twitter's, what it means for the future of the country and how it impacts democracy. 
"Right now, the cost of being hateful doesn't outweigh the benefits," Hemphill says. "I don't just mean the financial costs — there aren't enough social consequences for being hateful."
RELATED
Read "In Elon Musk's chaotic Twitter reign, right-wing extremists and conspiracy theorists are back." 
Learn more about Hemphill's research on social media by visiting her faculty profile.
People featured in this story
Associate Professor of Information, School of Information, Research Associate Professor, Inter-University Consortium for Political and Social Research, Institute for Social Research and Associate Professor of the Digital Studies Institute, College of Literature, Science, and the Arts