University of Michigan School of Information
'Just live a little and play a little. You do your best work when you are happy.' Nisreen Salka on finding your 'happy place'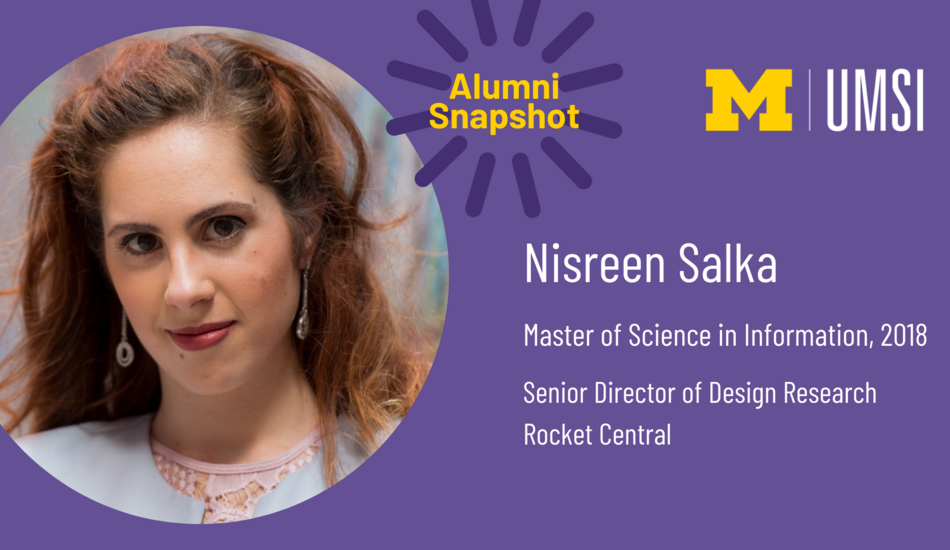 Thursday, 05/19/2022
Master of Science in Information alumna Nisreen Salka describes her time at the University of Michigan School of Information as a constant "feedback loop." As a full-time student with a full-time job, she was always on the go, "constantly learning and applying" her skills. 
While at UMSI, Salka loved being part of a small community of passionate people. Her favorite course included Colleen van Lent's web development course, which taught her how much she loved to code. Currently the senior director of design research at Rocket Central, Salka enjoys mentoring people and participating in the various processes of user experience (UX) design. 
Now, as a leader, I want to give my team members the same voice that UMSI gave me when I was in the program. 
Read about how Salka's graduate career at UMSI gave her a unique perspective in the industry and how she transformed her love of screen arts and business into a UX career in her Alumni Snapshot. 
People featured in this story
Lecturer IV in Information, School of Information