University of Michigan School of Information
Lt. Gov. Garlin Gilchrist II to deliver keynote talk on water challenges in Michigan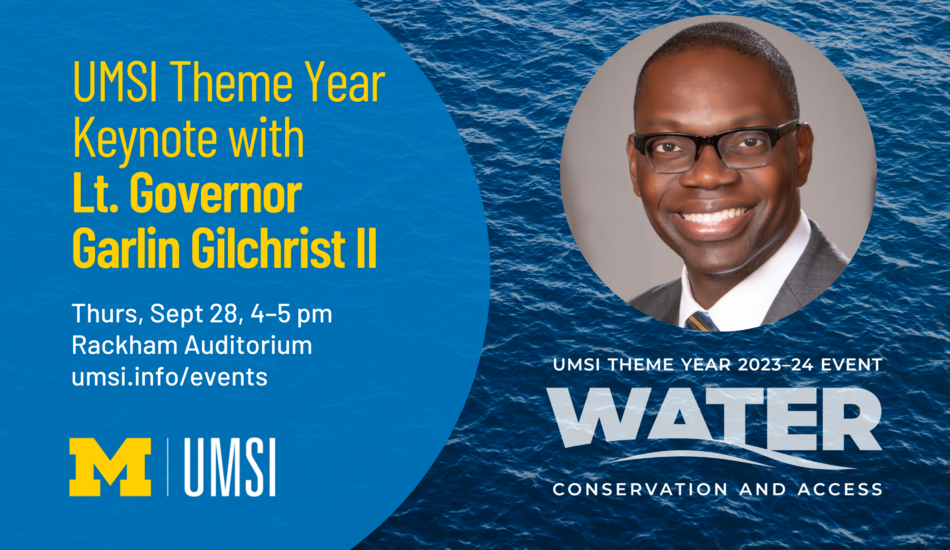 Wednesday, 09/27/2023
Lt. Gov. Garlin Gilchrist II will join the University of Michigan School of Information community on Thursday, Sept. 28, to discuss water-related issues facing Michigan communities and plans for the future. 
His keynote talk, titled "Using Information to Solve Michigan's Water Challenges," comes as part of UMSI's theme year on water conservation and access. In collaboration with government and water advocacy organizations, UMSI community members are using information science to tackle water-related issues in Michigan and around the globe. 
For Gilchrist, the keynote marks a return to his alma mater. He studied computer engineering and computer science at U-M before pursuing a successful career as a software engineer. In 2018, Gilchrist served as the founding executive director of UMSI's Center for Social Media Responsibility. As a politician and engineer by training, he is dedicated to using evidence-based practices to solve problems. 
Since taking office in 2019, Gilchrist and Gov. Gretchen Whitmer have invested over $4 billion to rebuild water infrastructure in Michigan. These transformational investments have supported 57,000 jobs while upgrading drinking water, stormwater and wastewater facilities, replacing lead service lines and building up dams. 
Gilchrist will discuss how students, faculty and staff have a social responsibility to apply their skills to policy issues, including water infrastructure. His talk will emphasize the importance of innovation and creative solutions in addressing the water-related needs of Michigan residents.
The keynote talk, which is open to the public, will be held in Rackham Auditorium on the U-M Ann Arbor campus from 4-5 p.m on Thursday, Sept. 28. Registration is required.  
— Abigail McFee, marketing and communications writer
LEARN MORE
UMSI Theme Year Keynote with Lt. Governor Garlin Gilchrist II