University of Michigan School of Information
MADS student Sophia Boettcher uses data science for social good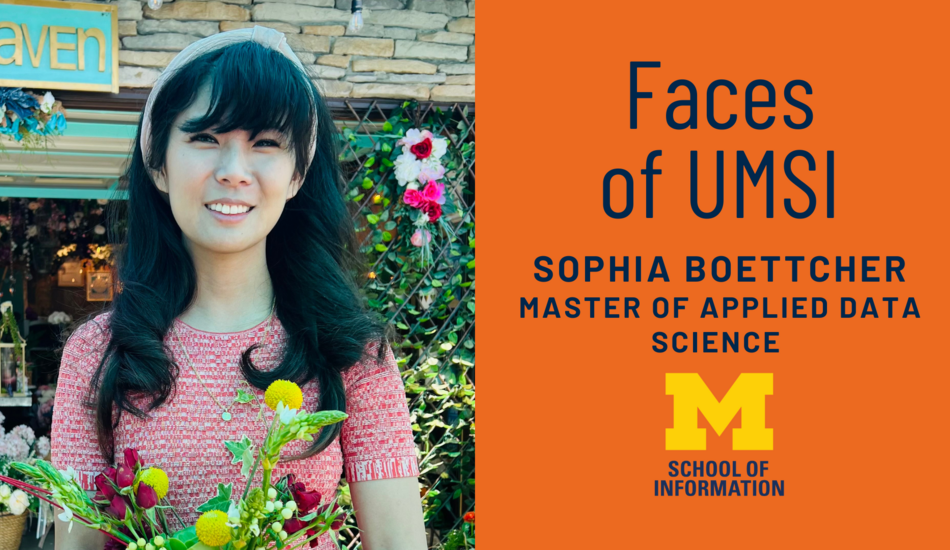 Tuesday, 11/01/2022
Master of Applied Data Science student Sophia Boettcher lives in San Jose, California, and operates a small health equity disaster relief nonprofit. In her twenties, Sophia was diagnosed with a rare autoimmune disease, and data science has helped them live a normal life.
Here, Sophia discusses the important work they are doing with their nonprofit organization, earning a UMSI Diversity, Equity and Inclusion Award, and the ways she balances school, work and her health.
How did you first hear about the MADS program? What made you decide to enroll?
When I was still in undergrad at Santa Clara University, a very well-connected professor named Michael S. Malone pulled me onto a healthcare Internet of Things startup called PatientKey. I got bitten by the startup bug and also found myself in the trenches battling scleroderma in my twenties (a rare disease known as the most fatal of all rheumatological illnesses). 
After taking a postgrad class at Stanford in bioinformatics, I discovered that data science is super interesting and important! In fact, it helped me spearhead my own treatment combo and live a normal life where I can help other people rather than figuring out what to eat/sleep all the time.
What is it about Applied Data Science that interests you? How do you plan to use this knowledge?
Applied data science is so interesting because we can use it to really make a change across so many fields. During the pandemic, our little nonprofit was able to map projected hotspots/health equity areas of concern to send out masks to areas most in need (Native American care centers, disability assisted living facilities, cancer hospitals, dialysis centers, homeless shelters, etc.). 
I'm amazed to read and learn about how data science students can use their skills to combat climate change, make driving/mobility safer and more equitable, improve health outcomes and more. It's really like we all here in the MADS program are honing this superpower (I'm a bit of a Marvel fan), and we can really effect a positive change in our local communities. I plan to continue working in nonprofits (I'm one of those weird few who has little interest in working for a big tech company) or maybe local government or a school.
Have you taken other online courses? How does the MADS program compare?
I've taken a course at the Stanford Center for Professional Development. That was great too! I really enjoy how socially provoking the courses at University of Michigan are. Stanford is very technically thoughtful, and I like the social/human-centered focus of the MADS program. Both are great.
How far along are you in the program? When do you expect to get your degree?
Disabilities aren't as rare as we might think! (1 in 10 people in the US has a rare disease). But for me, because I struggled with getting to a good place and am happy to be alive and well, I'm in no rush to get my degree. I'm almost halfway there. I think maybe a year or a year and a half to go!
Tell us about the ways you've been able to cultivate community among your peers and instructors.
I recently joined the Senate Advisory Committee on University Affairs through University of Michigan Central Student Government and also helped design the logo for UX@UM. It's nice that there are opportunities for us remote students to participate.
I've found that as a student with a rare disease, remote learning has actually reduced some barriers to learning. When I had scleroderma at its worst (even before the pandemic), it was very isolating. Being able to interact with folks via Slack and participate in Hackathons has been great. You really get a feel for the vibrance of the community. It really gives me the urge to participate on campus if the opportunity arises!
How did you feel about earning a UMSI DEI Award this year? (Congratulations!)
It's definitely nice to be recognized, but also the work chugs on! There are so many deserving people doing important work. I want to plug my friends at Native American Reentry Services who are helping our local community in Pierce County, King County, and beyond to heal from intergenerational trauma associated with incarceration through connecting with culture and community. They're currently seeking support to build their sweat lodge and an office location that can support their staff. 
How are you balancing school with work and home life?
It can get really hectic running a small nonprofit. During the pandemic and then with the Ukraine humanitarian crisis, it means I don't always have weekends or I'm awake in odd shifts. I'm lucky to have found something that means a lot to me and that gives me energy rather than takes it away. 
In terms of balancing, it's true that I need to balance work, school and my health. I use a little biohacking tool called the Oura that I bought on eBay to try to optimize my sleep patterns and use ear plugs whenever I sleep.
Are there any projects (either at work or with outside activities) where you have been able to apply or benefited from what you've learned in your MADS courses?
Like many folks in 2020, we did a COVID hotspot mapping/prediction project but focused on equity/healthcare justice (so as to maximize the impact of where our resources were going). 
Is there anything about the program that surprised you?
The storytelling emphasis wasn't something I expected. From my experience in startups, we were kind of told that being a good communicator/storyteller is important. But I think it's neat that the professors are also saying that it's a vital skill for a data scientist!
Can you tell us about something unique or unexpected about you? 
Before the first crypto crash in 2017, I used to handmake tons of open-frame (wooden) ETH mining rigs. With a little hand saw mill and everything. Turns out, it wasn't the most environmentally friendly thing to do, and I eventually stopped when I realized Bitmain Antminers were on the way (which were even more power hungry, very loud, and I felt that they were unfair toward individuals). My hope was originally to have a vehicle/machine toward universal basic income in every home. Ah well.
RELATED:
Read more Faces of UMSI profiles.