University of Michigan School of Information
MSI student honored with prestigious Westin Scholar Award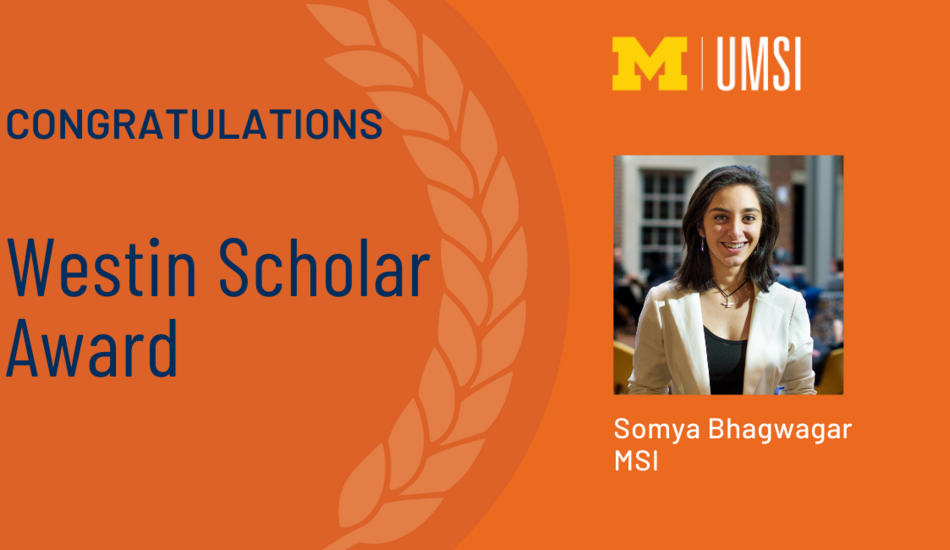 Tuesday, 06/22/2021
Master of Information student Somya Bhagwagar is the University of Michigan's 2021 Westin Scholar Award recipient. 
The honor, given annually by the International Association of Privacy Professionals (IAPP), supports students at affiliated schools who are considering careers in privacy and data protection. IAPP allows each school that participates in their program to select one Westin Scholar Awardee. Somya was nominated for the award by UMSI Assistant Professor Florian Schaub. 
"The Westin Scholar Award is a great recognition of Somya's passion for understanding and addressing privacy issues in information technology in the SI540 Privacy in Information Technology course and beyond the classroom," Schaub said. "I'm very much looking forward to seeing Somya become an important member of the community of privacy professionals."
The Westin Award is named after Dr. Alan Westin who was instrumental in shaping U.S. privacy law and leading global data protection efforts. Honorees receive a $1,000 cash award, a copy of the book "Privacy and Freedom," by Dr. Alan Westin, two years of membership with IAPP, three complimentary exams for IAPP certifications (CIPP, CIPM, CIPT) and unlimited access to online training for recipient's selected IAPP certification exams.
IAPP is an organization that aims to define, promote and improve the privacy profession globally. J. Trevor Hughes, IAPP President and CEO said that "the privacy profession is fast growing and constantly evolving. We've created these awards as a way to encourage students to enter this growing field and explore potential career opportunities."
Bhagwagar earned her Bachelor of Information degree from UMSI in 2020 and will graduate with her MSI in spring of 2022. Her interests lie at the intersection of privacy, the consequences of information chambers and in understanding the impacts of algorithms on existing inequities. 
As a student at UMSI, Bhagwagar became fascinated with challenging the narrative that wanting privacy means you have something to hide. 
"To me, privacy is more than secrecy," said Bhagwagar. "It provides a place to think and be, without being surveilled, labeled, or identified-- a place where you can explore without being tracked and actually learn without past mistakes altering future interactions. It's a place where you can think freely without being micro-nudged and influenced." 
Bhagwagar has also pursued projects that fuse storytelling and technology. This interest led her to the TEDx stage in Ann Arbor where she talked about founding the Facebook and Instagram accounts Students of UMich. Inspired by the viral Humans of New York project, Bhagwagar told the stories of students across U-M's campuses in the hopes of building human connection.
Now, Somya said, "I hope to work toward better forms of consent in data collection practices from a company perspective, but also to educate users on the data that's being collected about them, and the implications that it can have in how we see the world. Finally, I hope to dive deeper and better understand inequalities regarding privacy from an intersectional and socio-cultural perspective."
Learn more about the Westin Scholar Awards.
Read more about Somya Bhagwagar.
- Kate Cammell, UMSI News