University of Michigan School of Information
Parents of twins donate to UMSI, Kinesiology in honor of daughters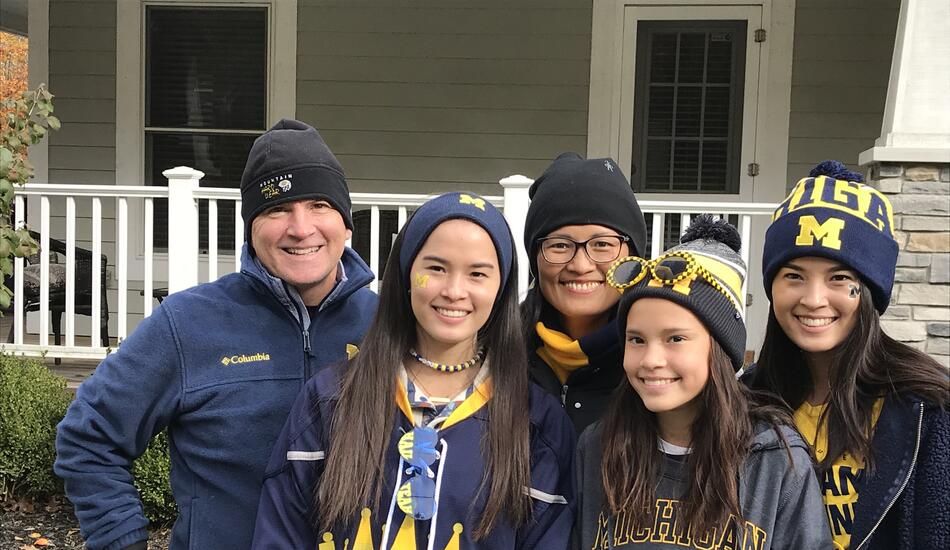 Monday, 10/03/2022
Before they could even walk, Kelsey and Kara Burke were sporting University of Michigan onesies. That's why, decades later, the twins' decision to attend U-M felt inevitable. 
"Mike didn't want to influence them, but it was obvious from day one," says Lisa Burke. "We were having U-M tailgate parties and we were very much with U-M from the beginning." 
Mike Burke received his Bachelor of Science in Civil Engineering from U-M in 1989. Since graduating, he's stayed connected with U-M, finding a community of alumni in California, where the family lives. Through the years, the family has frequently attended football games. 
Mike says his daughters' decision to attend U-M gave him an opportunity to further connect with the university. Kara graduated from UMSI with a Bachelor of Science in Information this year, and Kelsey with a Bachelor of Science from the School of Kinesiology. 
"I've always had friends from Michigan and known how useful the alumni connections are," he says. "But having my daughters attend gave us a chance to go all in." 
Most recently, the Burke family made endowed scholarship gifts to both the School of Kinesiology and the School of Information. The Hong Burke Scholarship Fund will go toward helping UMSI students complete their education. 
"We're grateful to be in a position to help" Mike and Lisa say. "It's something we are doing with Kara and Kelsey so they can remain connected to the University of Michigan as their careers develop, while paying it forward for others and helping them gain awareness of the importance of philanthropy."
— Noor Hindi, UMSI marketing and communications writer
Related 
Learn more about the School of Information and the School of Kinesiology at the University of Michigan. 
Learn more about opportunities for giving.