University of Michigan School of Information
Rayburn and Thomer bring home Best Poster award from iConference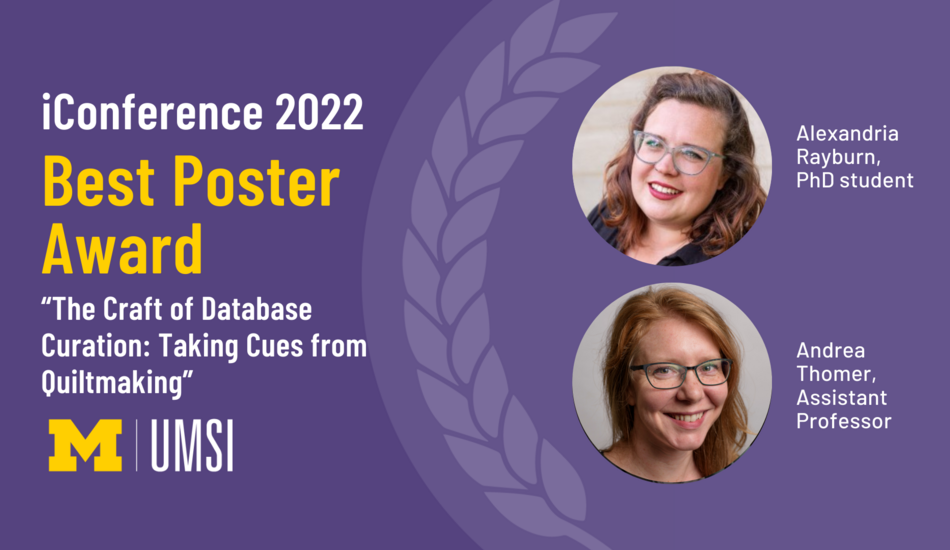 Friday, 03/04/2022
University of Michigan School of Information (UMSI) doctoral student Alexandria Rayburn and Assistant Professor Andrea Thomer earned the Best Poster award at the 2022 iConference, an international gathering of information scholars.
Their poster, "The Craft of Database Curation: Taking Cues from Quiltmaking," showcases the craft that is involved in digital stewardship. Rayburn and Thomer looked at data curation work through the lens of quiltmaking. 
"The broad question guiding the project is what are the practices that people use to maintain infrastructures for longer than they were originally meant to be maintained?" says Thomer, adding that they were particularly interested in the creative practices people use in their work. 
Using multiple case studies on data migration, the researchers uncovered similarities between curators and quilters, including the practice of piecing multiple systems together to create a cohesive whole, relying on community collaboration, and inter-generational labor. "We hope to show that the role of craft practices extends to work with technology," says Thomer.
Rayburn notes that data migration work is costly, time intensive, and needs to be completed often. "It can feel like a really overwhelming task, especially to folks who don't have a technical background," she says, adding that it could be helpful to think about this work in more relatable ways. 
"I've found that other representations of this work don't always resonate with me, and I think if we want to make this work more accessible to a wider audience we need to think of better metaphors," says Rayburn. 
They hope this work will provide a broader understanding of what a successful data migration can look like for memory institutions.
—Sarah Derouin, UMSI public relations specialist
People featured in this story