University of Michigan School of Information
Tawanna Dillahunt receives esteemed Elizabeth Caroline Crosby Research Award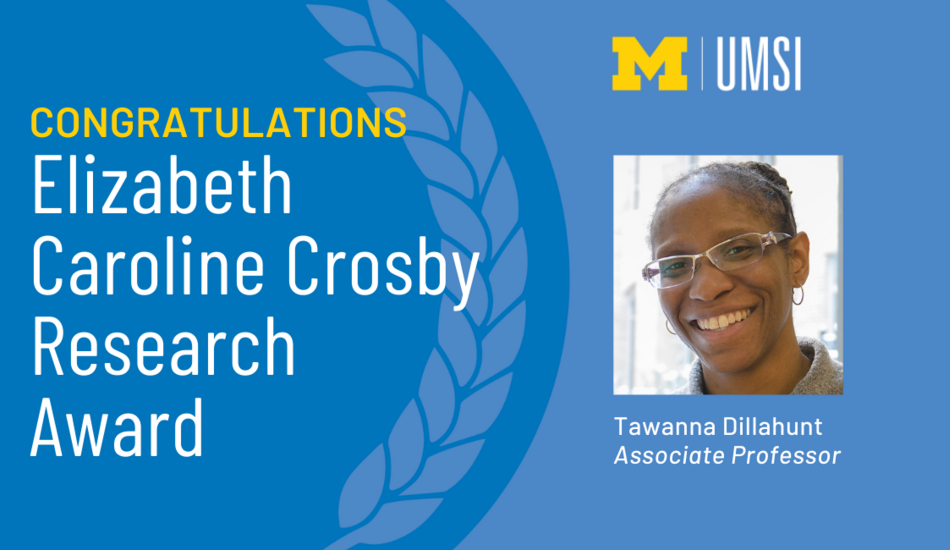 Tuesday, 06/01/2021

University of Michigan School of Information Associate Professor Tawanna Dillahunt received a prestigious 2021-2022 Elizabeth Caroline Crosby Research Award.
Named for U-M alumna and celebrated neuroanatomist, Elizabeth Crosby, the award is funded by U-M's ADVANCE Program, an initiative dedicated to supporting the career development of faculty at the university. 
The award is given annually to a select group of applicants looking to increase the impact of their instructional, research or clinical work. The Crosby award was started with the intention of retaining and promoting diverse faculty in science and engineering fields. 
Dillahunt is the new DEI faculty co-chair at UMSI and will use the funds to support diversity and leadership training. 
"I'm thrilled to have received the award! My goal is to develop professional skills in the area of diversity, equity, and inclusion (DEI) and leadership, which will help to support my role as a DEI faculty co-chair.  I will also use these skills to support DEI leadership at the broader university and community levels" Dillahunt said.
Her research focuses on human-computer interaction, ubiquitous computing and social computing. It seeks to support the needs of people from historically-excluded groups.  
Dillahunt noted that the DEI development she will undertake through the award, "will better frame and build out my research, which aims to design and create ethical, sustainable, and inclusive technology."
- Kate Cammell, UMSI News
 
People featured in this story
Associate Professor of Information, School of Information