University of Michigan School of Information
UMSI plans special week of activities to recognize transfer students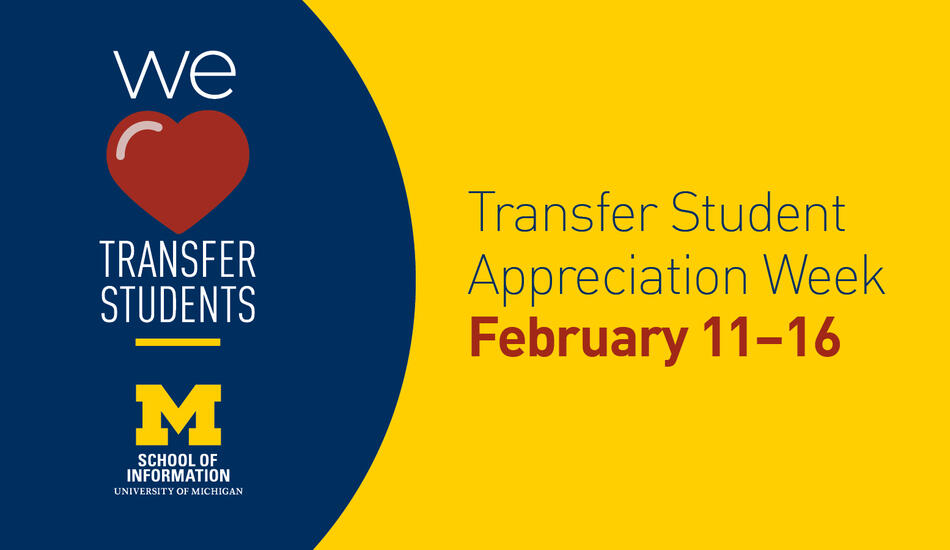 Wednesday, 01/23/2019
The School of Information has planned several activities, including a campus-wide scavenger hunt and bowling outing, during the university's Transfer Student Appreciation Week, February 11-16.
The week kicks off on Monday, February 11, 11 am to 1 pm, in the UMSI student lounge on the first floor of North Quad. Students will have the opportunity to enjoy coffee, cupcakes and conversation while learning all about Transfer Week and the planned activities. Details of the Transfer Week Scavenger Hunt will be shared at this event, which is open to all. 
All week long, the student lounge will display a banner, "We (heart) Transfer Students," that will provide a venue for students to share their thoughts on and support for transfer students, plus advice and resources they have found helpful. 
On Wednesday, February 13, from 11:30 am to 1 pm, the School of Information will host a lunchtime panel of UMSI seniors, graduate students, faculty and staff to discuss their own transfer student experiences and what life at the university was like after they had transferred. Non-UMSI students are also welcome. RSVP for lunch.
The week wraps up with the Grand Finale, a bowling outing  with snacks at Revel & Roll, 1950 S. Industrial in Ann Arbor, on Saturday, February 16 from 1-3 pm. This event is for all UMSI transfer students, and RSVP is required.
The University of Michigan has planned a number of other activities to recognize and celebrate the transfer student population. Details are available on the New Student Programs website.
- UMSI News Service