University of Michigan School of Information
UMSI plans special week of activities to recognize transfer students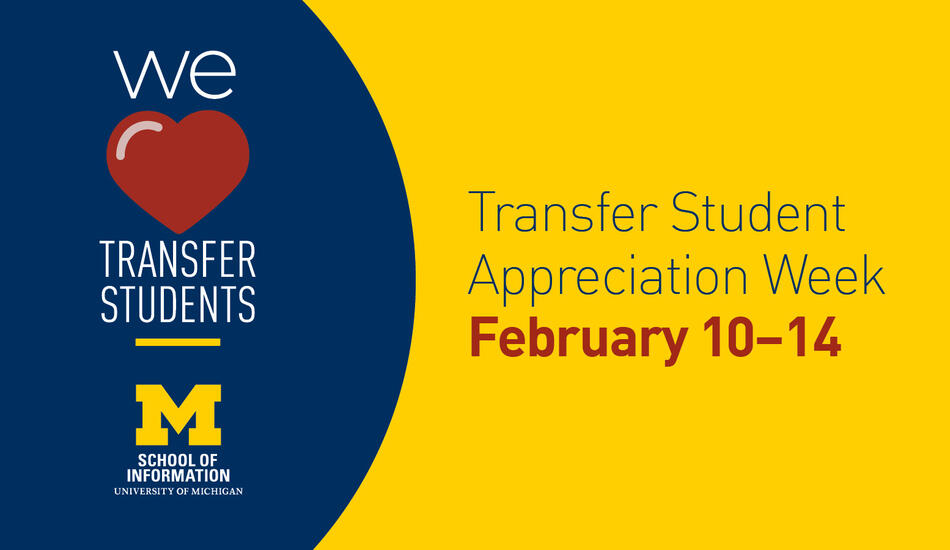 Wednesday, 02/05/2020
The School of Information has planned several activities, including a campus-wide scavenger hunt and bowling outing, during the university's Transfer Student Appreciation Week, February 10-14.
The week kicks off on Monday, February 10, noon to 1 p.m., outside the UMSI student lounge on the first floor of North Quad. Students will have the opportunity to enjoy coffee, cupcakes and conversation while learning all about Transfer Week and the planned activities. Stop by and sign the "We ♥ Transfer Students" banner!
On Wednesday, February 12, from noon to 2 p.m., the School of Information will host a transfer student open house, where you can connect with UMSI transfer students and learn about some of the advantages & challenges students face. You'll have the opportunity to connect with the UMSI Transfer Student Advisory Board. Stick around for some board games and other fun activities! Lunch provided. RSVP here.
The University of Michigan has planned a number of other activities to recognize and celebrate the transfer student population. Details are available on the New Student Programs website.