University of Michigan School of Information
UMSI professor Libby Hemphill promoted to tenure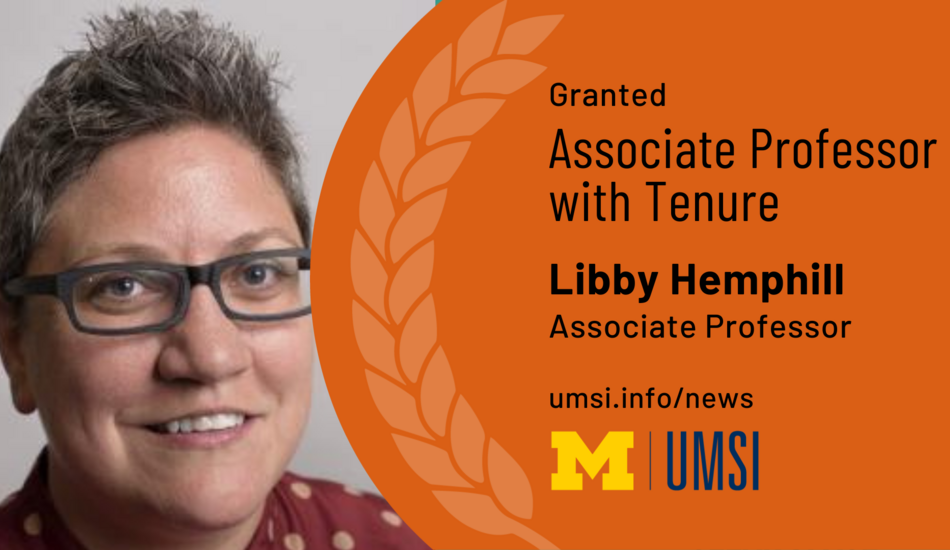 Monday, 06/19/2023
University of Michigan School of Information associate professor Libby Hemphill has been granted tenure. 
UMSI interim dean Elizabeth Yakel made the announcement on Friday, June 16. 
"Promotion at the University of Michigan is a significant accomplishment, and in addition to the hard work of the candidates, success also reflects the hard work of faculty and staff," Yakel said. 
Hemphill began her career at UMSI in 2017 as an associate professor without tenure. She is an expert on social media, hate speech and content moderation. Since starting at UMSI, Hemphill has published various research papers on ChatGPT, data archiving and the impacts of toxic social media behaviors. 
In 2021, Hemphill earned a Joan Durrance Community Engagement Award for excellence in building partnerships with communities in order to develop information-related projects that can lead to social change. She is the associate director of The University of Michigan Center for Social Media Responsibility. 
"I'm grateful to the incredible mentors and expert staff at UMSI who trained and supported me first as a graduate student and then as a faculty member," Hemphill says. "To work with such incredible colleagues at UMSI is an honor. Earning tenure takes a team, and I'm looking forward to working with this one for a long time."
RELATED 
Learn more about Libby Hemphill, her research interests and upcoming news in her UMSI faculty profile. 
People featured in this story
Associate Professor of Information, School of Information, Research Associate Professor, Inter-University Consortium for Political and Social Research, Institute for Social Research and Associate Professor of the Digital Studies Institute, College of Literature, Science, and the Arts
C. Olivia Frost Collegiate Professor of Information, Interim Dean, School of Information and Faculty Associate, Inter-University Consortium for Political and Social Research, Institute for Social Research