University of Michigan School of Information
UMSI Service Week serves multiple local organizations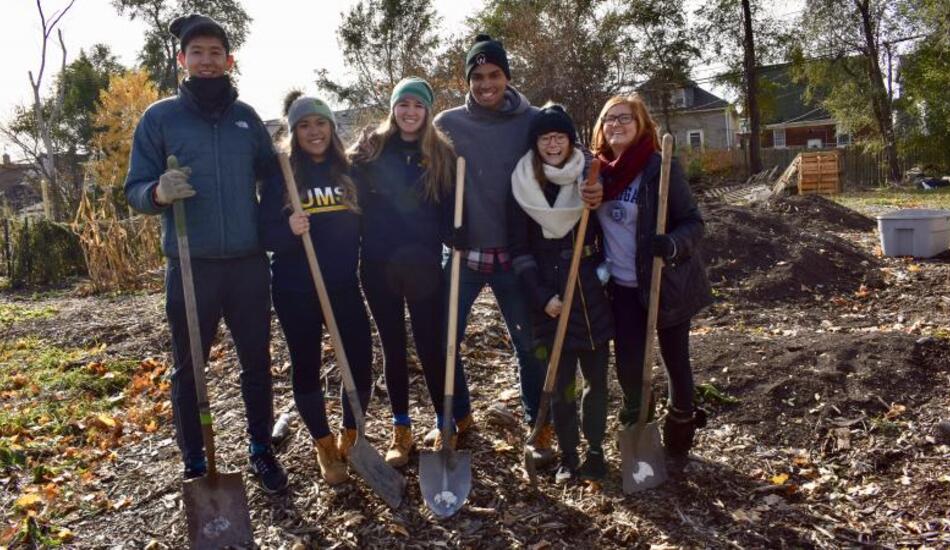 Tuesday, 12/05/2017
UMSI Service Week, held November 6-11, 2017, brought together UMSI students, faculty, staff and alumni to work together on service projects in the Ann Arbor, Ypsilanti and Detroit communities. UMSI contributed to over 20 projects at 14 organizations over the course of six days. A few projects and outcomes include:
At the Jim Toy Community Center, volunteers were able to successfully catalogue a total of 1,215 books on LGBTQ literature in 3 days.
For the CivCity project, the charge was to develop a prototype New Voter Kit for first-time voters, especially youth who are turning 18. One group brainstormed the barriers to civic engagement and new voter registration, preferred communication channels, and possible key messages. They also created personas that represent the project's target audience.
At the Nichols Arboretum, ten staff and students helped prepare the peony gardens for winter, using wheelbarrows to move stockpiles of mulch to spread in the beds.
At the Ann Arbor District Library, volunteers organized and archived a variety of materials, labeled art works and cleaned children's toys.
Ten faculty, staff and students worked on a chilly Friday morning in Ypsilanti for Habitat for Humanity of Huron Valley, helping to prepare a house for re-habitation. 
Over a dozen UMSI undergraduate students traveled to Detroit on Saturday to work on clean up at the Renville Street Community Garden.
UMSI Service Week has grown from a single Service Day held on the Saturday of the Martin Luther King Jr. Day weekend, to a full six days of volunteer activity starting in 2017. The event is organized by UMSI students, who identify local non-profit organizations in Ann Arbor, Ypsilanti and Detroit in need of a few hours of assistance on a wide variety of projects. 

This year, the organizations served were
Ann Arbor District Library
Ann Arbor Learning Community
Ann Arbor Summer Festival
Association of Outdoor Rec and Ed
Center for the Education of Women
The Corner Health Center
The CivCity Initiative
Focus: HOPE
Habitat for Humanity of Huron Valley
Jewish Family Services of Washtenaw County
Jim Toy Community Center
Matthaei Botanical Gardens and Nichols Arboretum
Natural Area Preservation
Southwest Detroit Environmental Vision
- UMSI News Service