University of Michigan School of Information
UMSI graduate student instructors earn awards for exemplary performance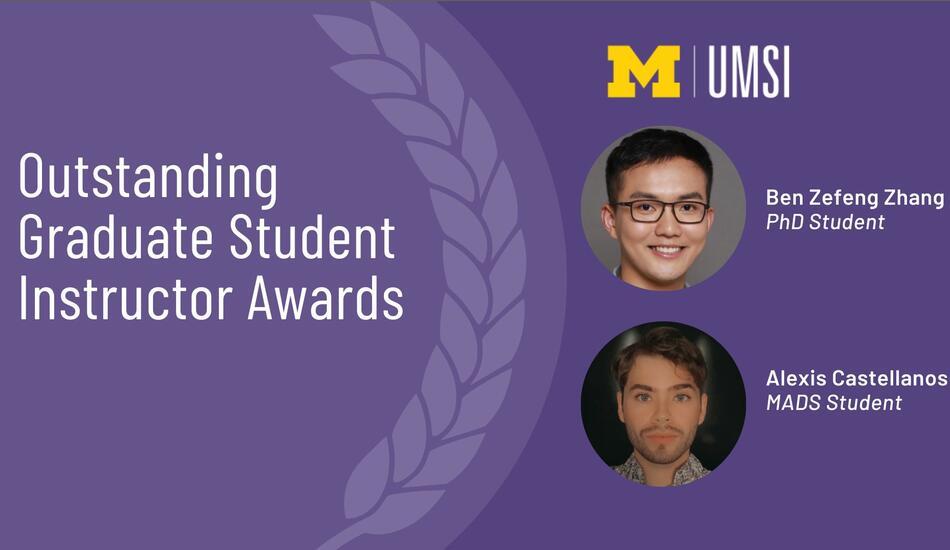 Tuesday, 09/20/2022
University of Michigan School of Information students Ben Zefeng Zhang and Alexis Castellanos are recipients of the 2021-2022 Outstanding Graduate Student Instructor (GSI) of the Year Award. 
The award recognizes exemplary performance as a GSI, including dedication, enthusiasm, communication and instructional skills. Recipients are selected based on nominations by faculty, students and peers. 
"Receiving the award was amazing for me," says Castellanos. "To receive positive feedback from all my peers and know I'm making an impact. I'm grateful." 
Castellanos is a Master of Applied Data Science (MADS) student based in Michigan. He graduated with a bachelor's degree in computer and information science from U-M Dearborn before coming to Ann Arbor. 
"I believe in the ability of data science and artificial intelligence to help provide low cost diagnoses and medicine to people throughout the world, especially in impoverished countries," he says. "That's my ultimate goal." 
Ben Zefeng Zhang is the doctoral student recipient of the 2022 GSI award. He studies human computer interaction, social computing and information communication technologies and development. Ben's current research examines areas including social media, identity transition, mobility and supports marginalized communities through critical life changes like migration. 
"I love working with students and teaching," Ben says. "It's rewarding to learn from students and see them get excited about learning." 
— Noor Hindi, Marketing and Communications Writer at UMSI.