University of Michigan School of Information
UMSI students have an ally when it comes to mental and emotional healthcare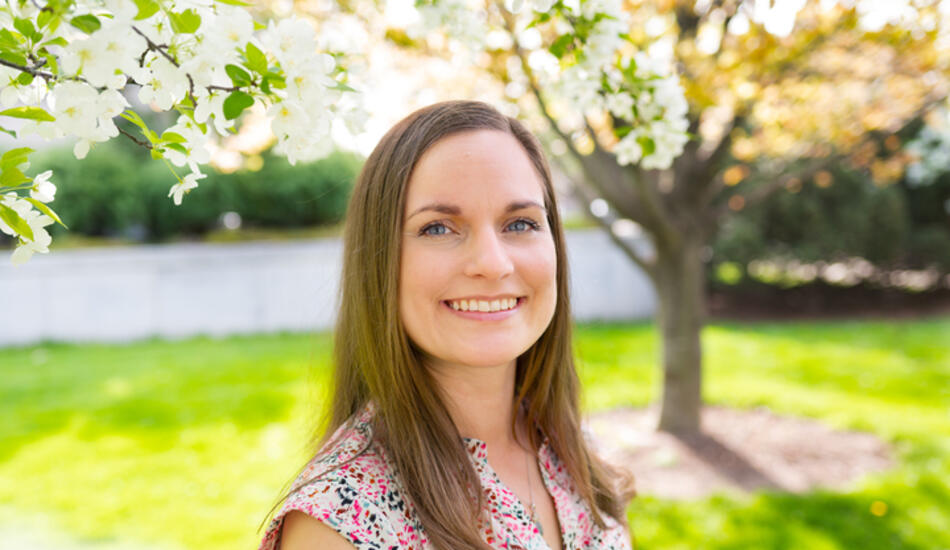 Wednesday, 06/01/2022
Ashley Evearitt, Psy.D knows the importance of balance. In her day-to-day work as the University of Michigan School of Information's embedded Counseling and Psychological Services (CAPS) psychologist, she provides individual therapy services for students and consultation for faculty and staff. Outside of work, she unwinds by reading, listening to podcasts and spending quality time with family.
In her role, she's helping students cultivate balance in their own lives by approaching therapy collaboratively to identify goals and build resilience skills. Evearitt works to create a trusting atmosphere where students can heal and express their authentic selves.
Evearitt's professional focuses include anxiety, trauma, grief, eating and body image, identity development, and family-of-origin concerns. She enjoys working with first-generation and international student populations. 
CAPS therapists like Evearitt are embedded in 18 different schools and colleges at U-M. Their individual counseling services are covered by student fees, so there is no additional cost to the student. 
Under HIPAA privacy laws, anything students, faculty or staff share with Evearitt is kept entirely private.
"I know students are sometimes hesitant to reach out because they're worried what information will be shared with their academic program," Evearitt says. "Even though I'm embedded in UMSI, your clinical information is confidential. Please reach out to me if you have any questions or if you would like to schedule an appointment."
Contact information for Ashley Evearitt can be found below, as well as steps for accessing online counseling and additional CAPS resources for boosting mental and emotional health. 
Note: Regardless of a U-M student's enrollment status or physical location, CAPS urgent/crisis services are available by calling 734-764-8312. 



Individual counseling
Steps for students to connect with Evearitt for therapy:  
Email

evearitt@umich.edu

to indicate interest in starting therapy. 

Evearitt will gather the student's demographic information via a secure database and schedule the Initial Consultation (IC) appointment.

Prior to the IC, the student will complete additional paperwork through the secure database detailing their concerns, information about their social support system, symptoms they're experiencing, etc. This helps focus the 30-50 minute IC on the student's current concerns and helps Evearitt develop an appropriate treatment plan.
Students can also receive individual, relationship and group counseling through CAPS, as well as urgent and after-hours services. They are also welcome to request an appointment with a different CAPS therapist who may have a specific specialization or interest area. 
Evearitt can also help students connect with therapists in their local community who accept their insurance if they prefer to seek services off campus.



Online counseling: Uwill 
Uwill is a virtual mental health and wellness tool that provides U-M students with immediate access to a therapist. It's an excellent resource for students who are out of state for the summer, says Evearitt. 
What is available to U-M students?
U-M students can have up to four sessions with a Uwill counselor at no cost. Students can: 
Choose a therapist based on their preferences including issue, gender, language and race or ethnicity

Choose a time that fits their schedule with day, night and weekend availability 

Choose their preferred mode of communication (video, phone or messaging)
Who is eligible? 
This service is offered at no cost to currently enrolled U-M students regardless of their location. Students must be enrolled during the semester they are seeking services. (The exception is doctoral students, who are considered to be continuously enrolled.) 
Who is it for?
Uwill is most appropriate for students whose concerns are a good fit for brief services and whose scheduling needs may not fit with available on-campus services. Uwill may also be an option for students who are enrolled but living outside of the state. 
How do students access Uwill?
Students enroll on the Uwill website using their university email address. 



Additional CAPS resources
Groups, lunch series and workshops are an excellent way to find increased support. Email evearitt@umich.edu with any questions or to get connected with a group.  
The Wolverine Support Network (WSN) is a student-led peer support program designed to empower students to create a safe community in support of mental wellbeing and identity development. The groups meet weekly and provide a place to discuss day-to-day stressors, build trust and connect with students from across campus. 
Silvercloud is an online, self-guided, interactive mental health resource. It's not designed to replace in-person mental health treatment but may be an effective option for students, faculty and staff seeking to manage day-to-day stress, improve resilience, and reduce mild to moderate symptoms of depression and anxiety. It is self-paced and can be accessed 24 hours a day.
The Stressbusters app is continuously updated with interactive features including daily messages from U-M community members, a "sonic spa" with audio tracks to increase calm and focus, a video stream of how-to segments, expert interviews, and other relevant short videos, and health rewards for participation in CAPS and other U-M wellness activities.
The Community Provider Database provides information about seeking therapy off campus in the Ann Arbor area. 


⁠— Martha Spall, UMSI writer
People featured in this story