University of Michigan School of Information
UMSI teams take prizes in DIA Plaza student design competition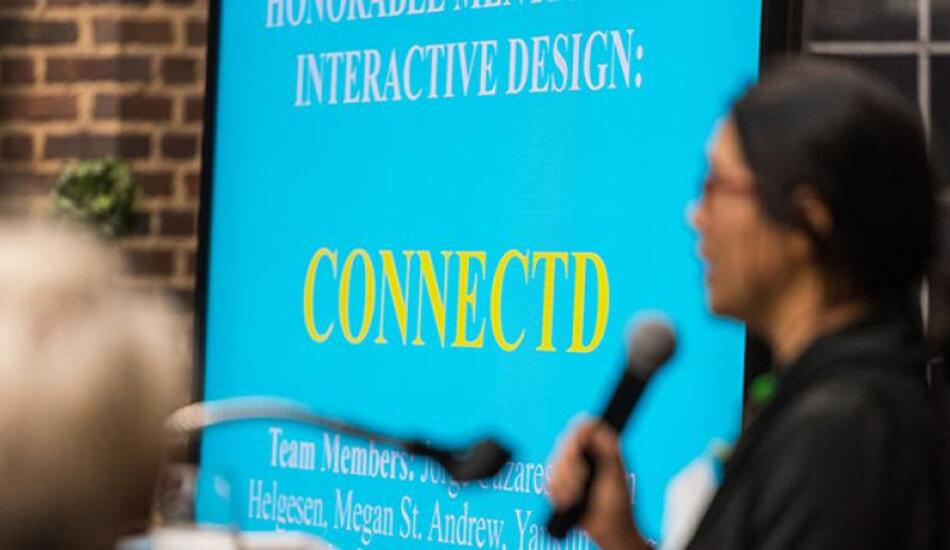 Friday, 02/01/2019
Two teams from the School of Information took honorable mentions at the recent Detroit Institute of Arts Student Design Summit. The goal of the competition was to include "the voices of young people" in a design project seeking ways to connect the DIA with the surrounding cultural institutions in downtown Detroit. 
The UMSI team projects receiving honorable mentions were DLens and ConnectD.
DLens received an honorable mention for Product Design. Jorge Cazares, Caitlin Helgesen, Megan St. Andrew and Yankun Wang created a hands-on, interactive screen that users could access at street level to learn more about the DIA Plaza and related cultural district. The project would allow all users to gather information and learn about the district even if they didn't have Wifi or a smartphone. Video
ConnectD won its honorable mention for Interactive Design. Team members Denise Baran, Alissa Graff, Teresa Cao and Guanrong Wang addressed the lack of digital and physical connection between the cultural institutions in Midtown Detroit. Their solution was a digital app, a physical booklet and a proposal to use the midtown University of Michigan building as a central information hub for the cultural district.  Video 
Honorable mention for Overall Design went to a team from U-M's Taubman College for "The Open Museum: Space Activators." The winner of the Jury Award and the People's Choice award went to a team from Wayne State University, who submitted 51Eighty. That proposal suggested creating an amphitheatre, green spaces and pedestrian districts and adding branding elements to the plaza.
The contest was sponsored by the University of Michigan and organized by Paul Fontaine, a lecturer at the Taubman College and program manager of the Michigan Engaging Community through the Classroom Initiative.
Ninety students on twenty-three teams submitted videos that described their visions for the central plaza. The schools represented were Wayne State University, the University of Michigan, University of Detroit Mercy, College for Creative Studies, and the Interlochen Center for the Arts. 
Read the full story from the University of Michigan Detroit Center. Photo credits: Michigan Photography